U of T research sparks potential new leukemia drug discovery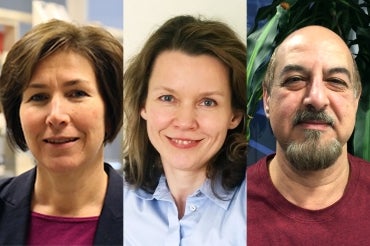 University of Toronto-affiliated scientists have created a first-of-its-kind treatment for leukemia that has attracted potentially record-breaking funding and will start trials on cancer patients in Ontario.
The groundwork for the potential new drug was laid by Professor Cheryl Arrowsmith, chief scientist of the U of T-affiliated Structural Genomic Consortium (SGC), working with a team of scientists from the SGC's chemical probe program, including biologist Dalia Barsyte and Masoud Vedadi, who is also an assistant professor in U of T's department of pharmacology and toxicology.
The SGC collaborated with the Ontario Institute for Cancer Research (OICR) drug discovery group, led by Rima Al-awar, an associate professor in the department of pharmacology and toxicology, in an open science collaboration that discovered the first inhibitor to a new drug target, WDR5.
Al-awar and her team at OICR further developed and tested the drug pre-clinically. After the success of these initial tests, the provincial cancer researchers attracted investment from Celgene Corporation that could potentially exceed US$1 billion – which would make it the largest transaction to date for a preclinical asset discovered in Canada.
This investment will allow for clinical trials based in Ontario, and will further research and development of the drug and other cancer research innovations developed in the province.
"The progress of this pre-clinical drug towards the clinic is an example of how OICR, working with its partners, is accelerating cancer research in Ontario and increasing investment so that new innovations can help patients as soon as possible," says Laszlo Radvanyi, president and scientific director of OICR.
Scientists have long known that a protein called MLL-1 plays an important role in promoting the development of leukemia. It does this by binding with a partner protein called WDR5. This new therapy works by disrupting the interaction between these two proteins, which throws a wrench into the development of the cancer.
It was Arrowsmith and her U of T team that first suggested targeting this protein combination as a way of fighting leukemia, and brought the idea to OICR cancer researchers. The two teams worked together to develop a "chemical probe" that could be used to test the anti-leukemia hypothesis. Under the SGC's mandate of open science, the two teams shared their successful results openly with the world's scientific community.
Other researchers then showed the probe could stop the growth of leukemia and other cancer cells.
"The development of this compound was a real community effort. When the team at SGC came to us with this idea, it was much easier to see a path forward because of our history of co-operation and the complementary skills of the two groups," says Al-awar, director and senior principal investigator of OICR's drug discovery program.
"Developing the inhibitor to a point where it can attract this type of investment demonstrates the power of Ontario's research community and how we can maximize our strengths by working together."
Arrowsmith, also a professor in the department of medical biophysics, agreed. "Collaboration is very important these days in cancer research, where is it difficult to find all the skills, knowledge and materials needed for a project in a single institution," she says.
"However, our collaboration was facilitated by our open science sharing of the chemical probe – no need for contracts or negotiations over intellectual property. That helped our research to go faster, and facilitated the rapid sharing of the chemical probe with colleagues who could test it out in important cancer models."
Arrowsmith says the drug should have potential for many different cancers and other diseases.
Faculty of Medicine