U of T to require COVID-19 vaccinations for students living in residence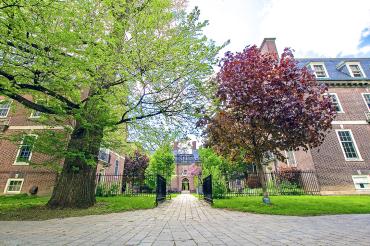 The University of Toronto will require students living in residence during the 2021-2022 academic year to be vaccinated against COVID-19.
The measure, supported by local public health authorities in Toronto and Peel Region, will apply to residences across the three campuses beginning this fall. That includes residences operated by the federated colleges.
Students should have their first shot prior to their move-in date, with U of T strongly recommending they receive it at least 14 days before moving in. Those who are unable to get vaccinated before moving in will have two weeks following their move-in date to receive their first dose, with the university helping to facilitate access to vaccines, subject to supply.
Public health experts have established that vaccines are a safe and effective way to protect individuals and those around them from serious illness due to COVID-19.
Sandy Welsh, U of T's vice-provost, students, said U of T's measure is necessary because students in residences live in close quarters and the university wants to provide students with a safe, welcoming and enjoyable residence experience that is conducive to learning and community-building.
"This requirement, which is endorsed by our local public health authorities, will enable us to give our students the residence experience that they expect – and that is so important to their growth and development – without compromising on their health and safety," Welsh said.
"It's really important that students be able to interact safely with one another and participate in the in-person programming that we know they value so highly."
Welsh added that students in residence who have not received a first dose within two weeks after moving in may be subject to additional public health restrictions. Any student who cannot be vaccinated on medical grounds or other grounds recognized by the Ontario Human Rights Code can request an exemption, she said.
Students are asked to keep all emails, receipts and records pertaining to their vaccination so that they can confirm their vaccination status. All personal information provided, including information regarding being vaccinated, will be handled in compliance with the Freedom of Information and Protection of Privacy Act.
Students who plan to live in residence will receive further details on how to provide confirmation of vaccination and how to request an exemption in the coming weeks, Welsh said.
The new measure does not apply to U of T's Student Family Housing, although the university strongly encourages all members of the U of T community to get vaccinated as soon as they are eligible to do so.
Welsh said U of T will facilitate access to vaccines for students who require first or second doses, and is collaborating with local public health offices and hospitals to host vaccine clinics on U of T's campuses. The university will also assist international students who participate in its quarantine program in getting vaccinated.
Students in Ontario, including international students, can consult Ontario's COVID-19 vaccination website for information on how to book a vaccination appointment.
Welsh said existing health and safety measures – such as mask-wearing, capacity limits in common spaces and regular self-assessment for COVID-19 symptoms – may also be in place in the fall, depending on the latest public health guidance.
"As part of our commitment to keep our community safe, we encourage all members of the U of T community to get their shot as soon as they are eligible," Welsh said, noting that U of T will continue to follow the latest public health guidance and adjust its COVID-19 safety measures as necessary.
"We are looking forward to a gradual and safe return to in-person activities across our three campuses this fall."
UTC