U of T report highlights drivers of 'irregular' migration at Canada-U.S. border: Toronto Star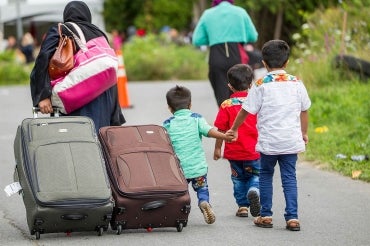 A report looking at the influx of so-called irregular migrants crossing into Canada has found that misinformation and hostile U.S. refugee policies were the main drivers, the Toronto Star reports.
The report was authored by Craig Damian Smith, associate director of the Global Migration Lab at the University of Toronto's Munk School of Global Affairs & Public Policy, and research associate at York University's Centre for Refugee Studies. It surveyed 290 of the irregular migrants from more than 50 countries that arrived in the two years starting in the spring of 2017, and found that few of them turned to smugglers to reach the border.
Smith told the Toronto Star that Ottawa's decision to increase the capacity of the Immigration and Refugee Board and reduce misinformation through outreach campaigns was "largely the right response" to the influx.
"The RCMP and Canada Border Services Agency conduct routinized security screening," Smith told the Star. "You don't have people trafficked. You don't see the cat-and-mouse game you see in many other parts of the world. People arrive safely, and without criminal networks."  
UTC