U of T remembers Bill Davis, Ontario's 'education premier'
The University of Toronto is mourning the death of former Ontario Premier Bill Davis – an alumnus who formed a lifelong relationship with the university and transformed the province's post-secondary system.
A former education minister who would eventually earn the moniker Ontario's "education premier," Davis played a pivotal role in expanding Ontario's community college system – and in founding Erindale College, which later became U of T Mississauga.
He also helped found U of T's Ontario Institute for Studies in Education (OISE), the first school in Canada dedicated to graduate research and teaching in education. He went on to serve as premier of Ontario from 1971 to 1985 and later served three terms on U of T's Governing Council, from 1999 to 2008.
Davis's family said he passed away Sunday morning at the age of 92.
"Bill Davis was a great and loyal friend of the University of Toronto," said Meric Gertler, U of T's president. "He envisioned and enabled the creation of the Ontario Institute for Studies in Education, one of the world's leading centres in the field, and he was a champion of U of T Mississauga, where the main administrative and student services building proudly bears his name.
"He was also an incredibly dedicated supporter of the U of T community, offering his wisdom and good humour in countless ways over the decades, earning the respect and affection of everyone who had the privilege of working with him.
"Speaking personally, I will miss my regular conversations with him, and I will always be grateful for his advice and support."
In memory of Davis and his impact on Ontario's education system, U of T has lowered flags to half-mast across its three campuses. They will remain lowered until after Davis's funeral.
"The Honourable William Davis was one of our greatest supporters," said Alexandra Gillespie, vice-president and principal of U of T Mississauga.
"His passion and commitment to higher education expanded opportunities for young people not only in our region, but across the province, laying the groundwork for the success of our students today and generations to come.
"On behalf of the UTM community, my sincerest condolences to the Davis family."
Rose Patten, U of T's chancellor, was chair of the university's Governing Council when Davis served alongside Bob Rae and David Peterson – themselves former Ontario premiers.
"I am sad to hear of Premier Davis's passing, as are countless others across the U of T community, the province and the country," Patten said. "But above all, I am grateful to have known him, and I remain inspired by his warmth and wisdom, and his extraordinarily impactful leadership."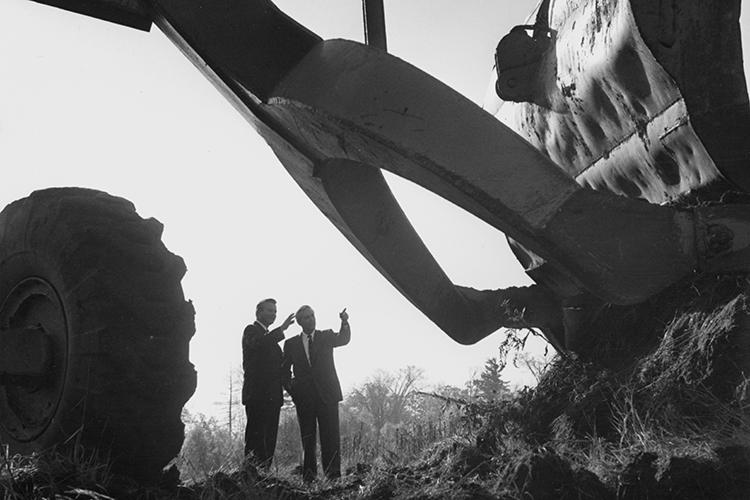 MPP Bill Davis (left) and Principal Carleton Williams (right) attend a ground-breaking ceremony at Erindale College in 1966 (photo by Jack Marshall Photography)
Professor Normand Labrie, interim dean of OISE, hailed Davis's contributions to the institute, which he said will "sorely miss" his presence and guidance.
"The very ethos of our institute traces to the passion and leadership of Mr. Davis – as education minister, as premier, as friend of the institute," Labrie said in a statement.
"As he often stated, 'If we get education right, everything else will be better, including such things as social services, health care and so much more.' His legacy will continue to inspire our overall mission to advocate for education and prepare our community for the challenges now and beyond. His kindness and generosity of spirit stands as an exemplar about how we need to treat each other during challenging times.
"We hope we continue to make him proud."
Davis was born William Grenville Davis at Toronto General Hospital in 1929. He attended U of T's University College and played football for the Varsity Blues football team, graduating in 1951.
He went on to study law and practised as a lawyer until 1959, when he was first elected to the Ontario legislature at age 29. He was appointed education minister three years later.
As education minister, Davis championed the creation of Ontario's network of community colleges as well as the founding of OISE, Erindale College and other universities.
"Bringing community colleges to Ontario was such a major addition to our education system," said former Mississauga Mayor Hazel McCallion. "His goal and ambition was to give every youth an opportunity to succeed."
Davis also created the Ontario Education Communications Authority, known today as TVO.
As premier, Davis played a key role in the 1982 patriation of Canada's constitution, which effectively transferred the constitution from the British Parliament to Canada's federal and provincial legislatures.
Charles Pascal, a professor at OISE, first met the then-Premier Davis while Pascal was president of Sir Sandford Fleming College.
"As premier, he had annual luncheon meetings with the college and university presidents to check in on the big issues of the day," said Pascal. "This was a continuation of his enormous contributions and commitments to education when he was minister."
The two went on to develop a long friendship, which Pascal says arose out of their mutual love of sports.
"He found out that I was a great source of hard-to-get University of Michigan football tickets," he said.
"As a show of gratitude for tickets to a weekend in Ann Arbor, 'WGD' hosted my wife and me to dinner the night before the game. [It was] a wonderful evening of banter about sports and politics. Thus began a forty-year relationship.
"What I will miss most are the random calls I would get from him putting me on the spot about various issues at play in Ontario over the past 20 years. And I, along with so many, will miss the incredible kindness of one so successful in improving Ontario's future, who remained so humble."
Davis received several awards and honours from U of T, including an honorary degree in 1967 and an Arbor Award for voluntary service in 2000.
In October 2010, U of T Mississauga's South Building was formally renamed the William G. Davis Building in honour of Davis's contributions to the creation of Erindale College and to post-secondary education in Ontario.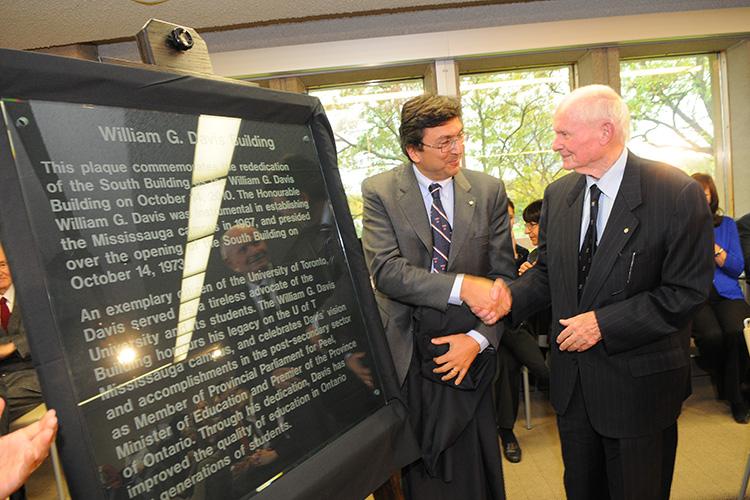 U of T President David Naylor shakes the hand of Bill Davis in 2010 during an event to rename U of T Mississauga's South Building in his honour (photo by Stephen Uhraney)
In March 2019, Davis delivered the annual R.W.B. Jackson Lecture at OISE in an event moderated by his biographer and TVO journalist Steve Paikin. Wearing a U of T ball cap, Davis discussed highlights of his political career, including his approach to the education portfolio.
"I had a feeling about education as being the most fundamental thing at any college or university … I would say so even today," Davis said. "It's fine to talk about what's being done by the medical profession, many others – the legal system, etc. – but the basis is still the educational system."
The lecture took place shortly before Davis's 90th birthday, so Paikin asked him to reflect on his life thus far.
"I think it's been pretty good," Davis replied. "I'm having fun here."
UTC