U of T releases new guidelines for researchers engaging in international partnerships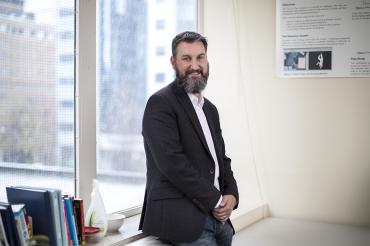 The University of Toronto has released new guidelines to help faculty assess international research partnerships for potential risks.
The resources are available through the international office's website and outline principles to consider before collaborating with partners outside Canada.
In an increasingly interconnected world, the advantages of international collaboration far outweigh the possible drawbacks, says Alex Mihailidis, U of T's associate vice-president, international partnerships.
The benefits include bringing diverse perspectives to research, combining datasets for greater insights and attracting additional research funding for faculty, as well as opportunities to translate research into practical applications and social impact. For students, international partnerships make possible exchanges, internships and employment opportunities following graduation.
However, U of T researchers must also exercise caution when working with partners in other countries, keeping in mind differences in laws and political climates.
Mihailidis says problems can arise due to geopolitical tensions, intellectual property rights or the security of data or team members while travelling abroad – and that U of T faculty who fill out a Research Partnership Security Information Document for International Partnerships can help the university prepare in case of a setback.
"This is a tool among many in our toolbox to ensure that partnerships will be effective and meaningful, and that they will help our faculty advance their goals while staying aligned with the university's values," Mihailidis says. "It is not intended to stop partnerships, or to deter faculty from developing international partners."
Mihailidis recently spoke with U of T News about the new guidelines.
---
What prompted this update of university processes around international partnerships?
There are several factors. With the changing times and the changing geopolitical relations around the world, it's important that our faculty members go into partnerships with their eyes wide open. So, we asked ourselves: What kind of resources can we put in place to educate our faculty members around the types of things they need to think about when they enter into any type of partnership? That's where these information documents come in. Most of this information already exists in U of T policies and best practices. We're not reinventing the wheel here.
That said, the federal and provincial governments are coming out with their own regulations, processes and checklist around research security. We want to make sure that our faculty members are well prepared to complete those checklists, and we can support them where needed, so there are no issues when they apply for government funding or initiate a new collaboration through a Memorandum of Understanding (MOU).
What types of international partnerships are becoming more common at U of T? 
U of T faculty members have engaged in international partnerships for years. This is true in the STEM fields, including computer science, engineering and medicine – and also in the social sciences and humanities.
Part of the international office's strategy is to support that partnership development and help it scale into larger initiatives where opportunities exists, developing institution-to-institution partnerships with other universities.  For example, the university has very productive partnerships with the University of Manchester, University of Melbourne, and National University of Singapore. 
We are also taking more of a 360-degree approach at the university in terms of corporate partnerships – so that we are inclusive of STEM, social sciences and humanities and other disciplines – to really demonstrate that we have talent and skills across the entire university that will benefit partner companies. These types of partnerships have led to important activities such as the  Alliance for AI-Accelerated Materials Discovery (A3MD), which also include corporate partners such as LG and Total.
What are the benefits and risks of international partnerships?
First off, the benefits far outweigh the risks. Benefits include exposing faculty members to new areas of research and new collaborators. Collaborating with international partners means the impact of our work is felt around the world. Working with corporate partners also opens up a lot of channels to translate research into the real world, whether it's turning technologies into actual products or shaping policies and procedures. There are also the obvious benefits of additional funding to support a faculty member's research.
Partnerships help students and trainees as well. They increase opportunities for student mobility, create possibilities for exchanges and internships, and can even result in employment for our graduates.
In terms of potential risks, it's really specific to the context of the partnership and partner. That's one of the things we're trying to get at with these new processes and new information sheets we're asking our faculty members to consider and complete. The information sheets are meant to give researchers a sense of the potential risks. By filling out these documents, they will help us assist them if any problems arise.
How does U of T's approach compare to others when it comes to identifying risks?
I can confidently say, based on consultations, that U of T is leading in this space by putting processes in place to proactively prepare our faculty members in anticipation of potential issues and of government-mandated checklists. One of the benefits we're seeing from this is that U of T is being looked at as a leader and is being asked to collaborate with and advise other institutions as well as the government.
UTC