U of T redesigns its need-based financial aid program to better account for Toronto's high cost of living  
All domestic students who want to be considered for UTAPS must now complete an application through U of T's Need Navigator tool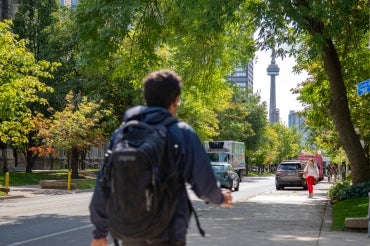 The University of Toronto has redesigned its largest need-based financial aid program to offer support that's more accessible, transparent and better aligned with the cost of living in the Greater Toronto Area. 
University of Toronto Advanced Planning for Students (UTAPS) is a program that provides eligible students with grants to help bridge the financial gap between the cost of their total education needs and the amount covered by government student aid programs – particularly, the Ontario Student Assistance Program (OSAP). 
A recent review of UTAPS concluded that the program can provide a way for the university to better determine and assist in meeting the costs of attending university in the GTA – for all U of T campuses and programs. The resulting redesign, implemented this year, will also streamline the process for U of T students to be considered for need-based supports.  
"Our goal was to get more money into students' hands, particularly given how the price of everything is just so much more expensive," says Director of Financial Aid and Awards Donna Wall. "It's about trying to help students so that they're not as worried about finances and can focus on their studies." 
There are also important changes to the application process – namely that all domestic students who want to be considered for UTAPS must complete an application through U of T's Need Navigator tool. The information will be validated before grants are disbursed.  
U of T provided $94.6 million in need-based supports to U of T students in 2021-2022, including $36.8 million in UTAPS grants. The grants supported more than 15,500 students – the vast majority of them undergraduates. 
UTAPS was originally established to fulfil U of T's guarantee that "no student offered admission to a program at the University of Toronto should be unable to enter or complete the program due to lack of financial means," as set out in Governing Council's 1998 policy. 
Wall says the UTAPS redesign upholds this commitment. 
"This allows us to be more agile, thoughtful and responsive to the needs of our students." 
Previously, UTAPS grants were based on the OSAP need assessment, which could be influenced by external factors such as changes in government policy. Relying on OSAP assessments also posed challenges for UTAPS planning, Wall says, because they often underestimated the amount of money U of T students needed.
For example, the OSAP need assessment applies the same living allowances across Ontario, even though necessities such as housing, food and transportation are much more expensive in Toronto than other parts of the province, says Wall.  
As part of the redesign, UTAPS has developed its own need assessment measure while increasing transparency about how resources are allocated.  
The Need Navigator will also streamline the financial aid process by allowing students to be considered simultaneously for UTAPS and supports from faculties and academic divisions, which totalled $57.8 million in 2021-2022. 
Wall says more updates to UTAPS can be expected in the years ahead, including tools to aid financial planning for students and their families. 
U of T students who have benefited from the existing program were excited to hear the support will better account for rising costs in the GTA. 
Maya Povhe, who is in her fourth year of studying business administration at U of T Scarborough, says one of the biggest benefits of UTAPS is how it's tailored to each student's individual needs, rather than providing a flat amount. 
"It's been a great aid to my financial planning," she says. "It meant I didn't need to worry about how I was going to pay for basic things like rent or food." 
Iqra Sadiq, a third-year student in the Rotman Commerce program, says programs like UTAPS allow students to make the most of the time they spend in university. 
"I would definitely say it's a really big help – not just financially, but also as a motivation to keep pursuing my studies," Sadiq says. "The price of education should never outweigh its value, and UTAPS gave me that boost to stay focused on school and not worry too much about the financials." 
UTC