U of T receives $7-million gift to usher in a new era of performance and music education at the Faculty of Music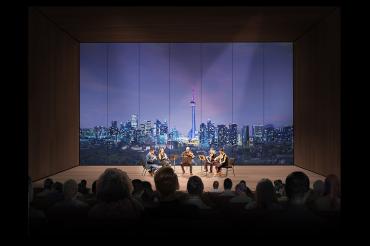 A generous gift from Ian Telfer and Nancy Burke will support the construction and ongoing operations of a beautiful and innovative new venue for the university's renowned Faculty of Music. This gift is the largest ever received by the faculty, and one of the most significant in support of music in this country.
The Jay Telfer Forum – named in honour of Ian Telfer's late brother, musician and screenwriter Jay Telfer – will provide Toronto's arts and culture sector with a much-needed mid-sized performance venue, where some of Canada's most inspiring music students can develop their talents and scholars can exchange musical ideas. A venue of this quality will also help attract notable artists to the city.
"The Jay Telfer Forum will have a profound impact on the educational experience of music students at U of T. It will give them the opportunity to hone their artistry in a stunningly beautiful, state-of-the-art venue with a jaw-dropping view of the Toronto skyline. And it will place them at the centre of a bustling new crossroads of other students and scholars, as well as leading performers and the general public," said U of T President Meric Gertler. "On behalf of the University of Toronto, I would like to thank Ian Telfer and Nancy Burke for their transformative leadership and generosity in enabling us to realize this incredibly exciting vision for the University and the city around us."
Once built, the Jay Telfer Forum will be an especially ideal venue for soloists and chamber music groups. It will feature top-notch acoustics, stunning views of Toronto, and flexible, technologically advanced infrastructure capable of bringing the forum's thrilling performances to the world through high-quality recordings and livestreams. In addition to the forum's primary use as a live music venue, it will host conferences and academic events, serving as a hub of artistic innovation and scholarly exchange for the university and the city at large. This incredible space will also enhance performance education at the Faculty of Music.
"It is a feature of our programs for students to perform in professional-quality venues, which prepares them for future artistic careers, and for our researchers to engage the public with their ground-breaking music research," said Ellie Hisama, dean of the Faculty of Music. "The Jay Telfer Forum will significantly enhance these opportunities for both students and the thousands of audience members who join us for our public events every year."
"The Jay Telfer Forum will be a fitting tribute to my brother: a place where rising musicians can learn, experiment, and grow," said Ian Telfer. "Nancy and I hope this gift will lift up the entire arts community in Toronto as it emerges from one of its most challenging eras."
The university's Faculty of Music and its over 7,500 alumni have been foundational to Toronto's vibrant music scene, with dozens of arts organizations tracing their roots to the faculty. It has produced some of the greatest artists of our generation – including Academy Award-winning film composer Mychael Danna, Grammy-winning soprano and conductor Barbara Hannigan, and soprano and multidisciplinary creative Measha Brueggergosman – and its graduates have won numerous Canadian and international awards for their work.
The Jay Telfer Forum will be a prominent centrepiece of a new development at 90 Queen's Park for the study of civilizations, cultures, and cities. Once complete, the forum will enrich the area's existing landscape of arts organizations, which includes the Royal Ontario Museum, the Royal Conservatory of Music, and the Faculty of Music's two other public venues, MacMillan Theatre and Walter Hall.
The donation from Ian Telfer and Nancy Burke is contributing to the university's Defy Gravity campaign – the largest alumni engagement and fundraising effort in Canadian history. The campaign aims to inspire 225,000 alumni to contribute their time and talent to the university one million times collectively, and to raise $4 billion to develop the ideas, innovations, and talent necessary to address the most pressing global challenges of our time.
"This gift is an inspiring example of how philanthropy can help unite us at a time when human connection and live performance have become more precious and important than ever," said David Palmer, U of T's vice-president, advancement. "Its impact will be felt throughout the entire Toronto arts community."
For more than a hundred years, U of T's Faculty of Music has been Canada's leading institution for music creation, performance education, and innovative research in areas such as ethnomusicology, musicology, music education, music theory, and music and health. It prepares future generations of arts leaders, including hundreds of performers, composers, scholars, and educators who shape tomorrow's musical experience and sustain Canada's cultural economy. The faculty hosts over 600 events in a typical year – more than any other local institution – with performances spanning a range of genres, from classical and jazz to pop, world music, and opera.
DUA