U of T ranked first in Canada, among world's top 20 universities by Times Higher Education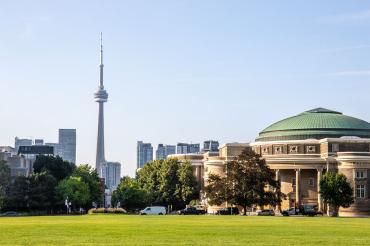 The University of Toronto has jumped three spots in the prestigious Times Higher Education ranking of the world's universities, placing it firmly among the world's top 20 institutions.
U of T was ranked 18th globally in the 2020 World University Rankings – up from 21st place last year – further cementing its status as Canada's top university. Among public institutions, U of T's performance was even more impressive, ranking eighth in the world and third in North America. 
The new ranking, released Wednesday, evaluates nearly 1,400 institutions around the world each year based on research volume, reputation, citations, teaching, international outlook and other factors.
"It's not easy to go up three spots in one year," said U of T President Meric Gertler, noting that U of T also rose three spots in a Times Higher Education ranking earlier this year that focused exclusively on universities' reputations.  
President Gertler added that U of T has invested carefully in an international strategy to engage its network of 591,000-plus alumni across the globe. 
"We recognize there's a virtuous circle: The better your reputation becomes, the easier it is to continue to attract great faculty, staff and students from across the country and around the world." 
London-based Times Higher Education, which published its first rankings in 2004, considers a wide range of criteria in its highly anticipated annual list. Research, citations and teaching are the largest components, weighted at around 30 per cent each. Research income from industry and a university's "international outlook," which includes the ratio of scholarly papers with one or more international co-authors, make up the remainder. 
The release of this year's rankings coincided with Times Higher Education's World Academic Summit, which is taking place this week in Zurich. President Gertler is attending the international conference on behalf of U of T and will participate in a session Thursday that explores the connection between location and building top talent.
U of T has been selected to host next year's summit, which is expected to draw to Toronto hundreds of senior academic leaders from around the world.  
Four other Canadian universities join U of T in the 2020 World University Rankings' top 100. They are: the University of British Columbia (34), McGill University (42), McMaster University (72) and the Université de Montréal (85).
The top three places in this year's ranking, meanwhile, were occupied by Oxford University, the California Institute of Technology and the University of Cambridge.  
With the latest news, U of T remains the highest ranked Canadian university, and one of the world's top ranked public universities, across the five main international rankings: Times Higher Education, QS World Rankings, Shanghai Ranking Consultancy, U.S. News Best Global Universities and National Taiwan University.
UTC