U of T ranked Canada's most innovative university by Maclean's magazine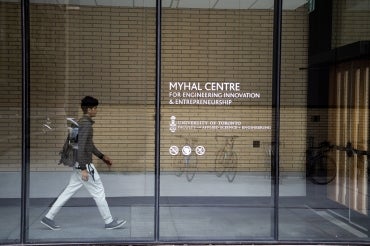 The University of Toronto is the top university in Canada for spurring innovation, according to the latest Maclean's national reputational rankings.
The annual ranking compares universities' reputations based on the results of a survey conducted by the magazine of university faculty, senior administrators and business people across the country.
"We're thrilled that the University of Toronto has been recognized for its efforts to foster a climate of innovation and entrepreneurship alongside its reputation for world-class research and academics," said Ted Sargent, U of T's vice-president, research and innovation, and strategic initiatives.
"One of U of T's strengths is creating opportunities for researchers and students to move their discoveries out of the university into the real world where they can make a difference in people's lives."
Overall, U of T held onto first place in the Maclean's reputational rankings for the sixth year running. In addition to innovation, it received top marks in categories related to quality and producing "leaders of tomorrow."
The other Canadian universities ranked in the top five overall by reputation were the University of British Columbia, the University of Waterloo, McGill University and McMaster University, respectively.
U of T placed second behind McGill in separate list of the best medical doctoral universities published by Maclean's.
U of T has a long and rich history of ground-breaking research going back 200 years, Maclean's notes. That includes the invention of the electric wheelchair, alkaline battery, IMAX and insulin.
Today, the university is also home to a vibrant innovation and entrepreneurship scene that has helped fuel Toronto's recent tech boom, which has resulted in new jobs and investment. The 2019 annual report of U of T's Division of the Vice-President, Research and Innovation noted that there were 180 invention disclosures, 250 commercialization projects, 75 priority patent applications and 35 licensing and option agreements at the university in the year prior.
U of T entrepreneurs, meantime, have created 500 startups in the last 10 years and secured more than $1.5 billion in investment. Most of these startups are student-led.
Companies led by U of T graduates and faculty are regularly in the news, Maclean's says, citing BlueDot, the AI software company that was the first to warn the world of the COVID-19 pandemic.
U of T was also recognized by Reuter's last year in their ranking of the most innovative universities in the world. U of T was ranked first in Canada in that list and 27th globally, up 19 spots from 2017.
"U of T is proud to support its researchers and entrepreneurs as they look to turn their ideas into reality," said Derek Newton, assistant vice-president, innovation, partnerships and entrepreneurship.
"Through successful partnerships with industry, intellectual property protection and its many startup accelerators, U of T helps innovators each step of the way."
UTC