U of T ranked among the world's top universities by ShanghaiRanking Consultancy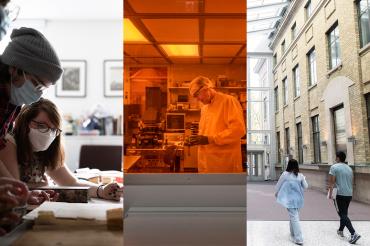 The 2022 Academic Ranking of World Universities, released this week, saw the University of Toronto hold steady at 22nd in the world among all universities, public and private, while remaining the top-ranked university in Canada.
U of T also ranked sixth among North America's public universities and 11th among public schools globally – the same position it held last year – in the ShanghaiRanking Consultancy's latest world university rankings.
U of T continues to occupy its highest highest-ever position since the ranking was first launched in 2003.
"The University of Toronto is consistently recognized as one of the world's leading universities," said U of T President Meric Gertler. "Across a wide range of fields, U of T scholars and researchers are advancing knowledge and understanding, while addressing the most pressing global challenges of our time."
The Academic Ranking of World Universities is based on six weighted measures related to research and academic performance. They include: the number of alumni and faculty winning Nobel Prizes and Fields Medals; the number of highly cited researchers in 21 broad subject categories; the number of papers published in the prestigious journals Nature and Science; articles indexed in major citation indices; and each institution's per capita academic performance.
In all, ShanghaiRanking Consultancy scrutinizes more than 2,500 institutions and publishes a list of the top 1,000 performers.
U of T did particularly well in the research category, earning high marks for its output in the sciences and social sciences.
The top three universities in this year's edition of the ranking were Harvard University, Stanford University and the Massachusetts Institute of Technology (MIT).
Four other Canadian universities placed within the top 100: the University of British Columbia (44th), McGill University (73rd), McMaster University (90th) and the University of Alberta (92nd).
Overall, U of T continues to be one of the world's top-ranked public universities in the five most closely watched international rankings: U.S. News & World Report's Best Global Universities, Times Higher Education's World University Rankings, QS World University Rankings, ShanghaiRanking Consultancy's Academic Ranking of World Universities, and National Taiwan University World University Rankings.
UTC