U of T ranked among 10 best in world for law: Times Higher Education
Education, business and economics, and social sciences also ranked high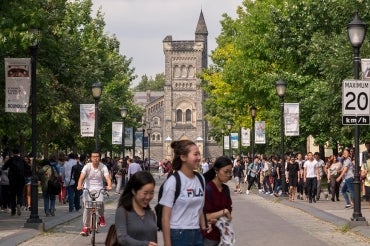 Law at the University of Toronto is 10th in the world in a new ranking of subjects by the prestigious Times Higher Education (THE) released today.  But it wasn't the only research area to get top marks by THE.
U of T also ranked 11th in education, 22nd in business and economics, and 27th in social sciences in the survey of 400 top global institutions – four times more institutions than were surveyed last year.
Last month, THE also ranked U of T 15th in arts and humanities (which includes art, performing arts, languages, history, philosophy, theology, architecture and archaeology), tied with the University of Michigan.
U of T was the top Canadian university in the subjects released today, as well as among the top five public universities worldwide in law, top six in education and the top seven in arts and humanities.
"Every year, our scholars produce cutting-edge research and innovations in just about every subject area imaginable," said Vivek Goel, U of T's vice-president of research and innovation. "Once again, we're pleased to see the breadth and depth of the University of Toronto's research prowess reflected in the Times Higher Education subject rankings."
Overall, THE ranks universities in 11 subject areas, but the company is only releasing a few subject results at a time. This marks the first time THE has created a separate subject ranking for law, education and psychology. Previously, all three were considered part of the social sciences.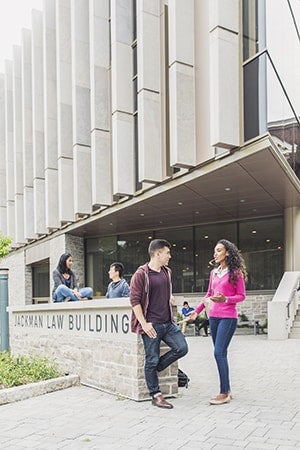 U of T scholars in a number of disciplines study law. U of T's Faculty of Law (pictured left) is also internationally known for its challenging academic program, faculty research and teaching prowess, outstanding student body and alumni, and one of the lowest faculty-student ratios in North American law schools.
"The Faculty of Law is founded on the principle that an academic, interdisciplinary approach to legal education produces not only great ideas, and better law as a consequence, but helps shape better lawyers and leaders," said Dean Edward Iacobucci.
He added that while it's the proud history and high ambitions for the future that guide the faculty, not rankings as such, he is pleased the Times Higher Education rankings came out the way they did.
Overall, Canadian universities fared well in the global subject rankings released today by THE. In education, the University of British Columbia placed 13th, McGill 35th, the University of Alberta 60th and Simon Fraser University 98th. Nine Canadian universities placed in the top 100 for law.
Earlier this year, the Shanghai Ranking Consultancy issued its global subject ranking, placing U of T second in psychology research – just after Harvard University – third in medical technology, fifth  in public health, sixth  in human biological sciences, and ninth in biotechnology, finance, and mining and mineral engineering in the report.
That survey looked at more than 500 top global universities in 52 subject areas. Overall, U of T ranked in the top 25 for 25 different subject areas – only four universities were ranked in more subjects (Harvard, Stanford, Berkeley and MIT). Among Canadian universities, U of T was placed first (or tied) in 28 of the 46 subjects it was ranked in.
The University of Toronto continues to be the highest-ranked Canadian university and one of the top-ranked public universities in the five most prestigious international rankings: Times Higher Education, QS World Rankings, Shanghai Ranking Consultancy, U.S. News Best Global Universities and National Taiwan University.
UTC