U of T ranked 21st globally, 2nd among North American public universities: QS World University Rankings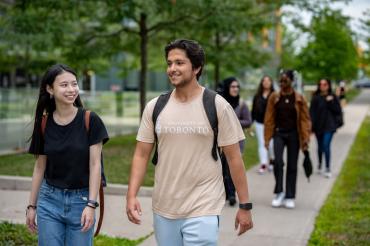 The University of Toronto has been ranked 21st among universities globally – and second among public universities in North America – in the latest QS World University Rankings.
U of T climbed 13 spots in the latest edition of the highly regarded annual ranking by U.K. analytics firm Quacquarelli Symonds, placing it first in Canada and 21st out of the 1499 universities included in this year's ranking.
Among public universities, U of T placed 12th globally and second in North America behind only the University of California, Berkeley.
U of T's strong performance was propelled in part by a change in methodology that saw the university gain top marks for its second-place performance in the the first-ever QS sustainability ranking last year as well as its historically strong performance in graduate employability. 
"This latest ranking underscores the University of Toronto's world-leading scholarship, research and teaching excellence across a remarkably broad spectrum of disciplines," said U of T President Meric Gertler.
"Faculty, students, librarians and staff across our three campuses, along with our alumni around the world, can be very proud of this testament to their talent, creativity and impact."
For its 2024 ranking, QS expanded the set of measures it uses from six to nine, which were assigned different weights to calculate each school's overall score.  
U of T excelled in the three new categories, which each contributed five per cent to the final tally – international research network (46th globally), employment outcomes (22nd) and, in particular, sustainability (second).
Academic reputation, based on a survey of scholars across the globe, carried the most weight at 30 per cent. U of T ranked 11th in the world for that indicator.
Employer reputation accounted for 15 per cent of performance – an increase from 10 per cent in previous rankings – as measured by a survey sent to global employers. U of T ranked 33rd globally on that measure.
The remaining categories include: citations per faculty (20 per cent), faculty-student ratio (10 per cent), international faculty ratio (five per cent) and international student ratio (five per cent).
The top three schools in the latest ranking were Massachusetts Institute of Technology, University of Cambridge and University of Oxford. 
Two other Canadian schools joined U of T in the top 100: McGill University (30th) and University of British Columbia (34th).
U of T is ranked first in Canada and among the top 25 universities globally in the five most closely watched international rankings: QS World University Rankings, U.S. News & World Report's Best Global Universities, Times Higher Education's World University Rankings, ShanghaiRanking Consultancy's Academic Ranking of World Universities and National Taiwan University World University Rankings.
UTC