U of T raises Progress Pride flag to mark the beginning of Pride Month
The clouds cleared just in time for the beginning of Pride month celebrations at the University of Toronto this week.
The university marked the occasion with a flag raising at Varsity Stadium that was hosted by the Faculty of Kinesiology & Physical Education (KPE) in collaboration with the Sexual & Gender Diversity Office (SGDO).
Flags were also raised at U of T Mississauga and U of T Scarborough.
At St. George, Caroline Fusco, an associate professor at KPE specializing in social justice and equity issues in sport, kicked off the ceremony by sharing what the flag raising meant to her, an Irish-Catholic member of the LGBTQ community who grew up in Northern Ireland during the Troubles.

"When I represented Ireland in international field hockey, I never got to stand under the Irish tricolour, the national flag of Ireland, because the governing body of Northern Ireland hockey wanted the Irish team to stand under a politically neutral flag," she said. "And when I came out as a member of the LGBTQ community in Ireland, there was no flag to celebrate my identification."

In fact, she said the first Pride flag was raised on a government building in Northern Ireland only a few years ago, and that while there have been hostile responses to Pride flags in Ireland over the years, the post office recently produced two special edition rainbow stamps with all proceeds from sales of the stamps going to LGBT Ireland.

"So, flags have stories and we have memories of them," Fusco said.

This year, the university raised the Progress Pride flag for the first time. The flag was designed in 2018 by Daniel Quasar, who added a five-colored chevron to the classic Rainbow Flag, which is widely recognized as the symbol of the 2SLGBTQ+ communities, to place a greater emphasis on inclusion and progression. 

The flag includes black and brown stripes to represent marginalized 2SLGBTQ+ communities – the black stripe doubly representing community members lost to HIV/AIDS and those currently living with AIDS – along with the colours pink, light blue and white, which are used on the Transgender Pride flag.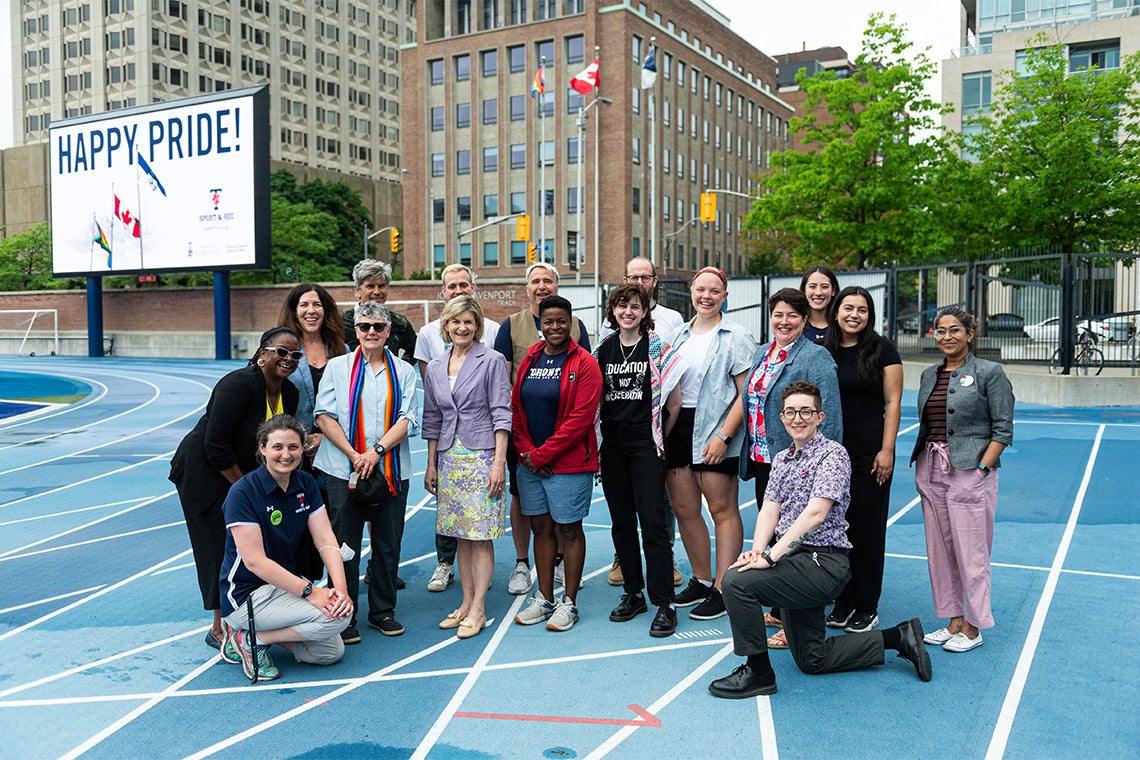 A flag-raising event at Varsity Stadium was hosted by the Faculty of Kinesiology & Physical Education in collaboration with the Sexual & Gender Diversity Office (photo by Seyran Mammadov)
Fusco said that recognizing Pride month also means recognizing that June 1st is the beginning of Indigenous History Month and emphasized that fighting for LGBTQ rights also means fighting for an end to all oppression.
 
"Our presence here at this flag raising is a dismantling of sorts, a disorientation and reorientation of our thinking – a provocation to look up at the progress flag and encounter the world differently," she said.

Professor Gretchen Kerr, dean of KPE, spoke of the faculty's strong history of leadership in the areas of equity and inclusion in sport, recreation and academics.

"In collaboration with SGDO, KPE has expanded training, programs and events to empower and include the 2SLGBTQ+ communities," Kerr said. "These range from initiatives such as the Athlete Ally, a Varsity Blues program committed to ending homophobia and transphobia in sport, to the Sport & Rec diversity and equity team, a student-led group that organizes inclusive events throughout the year such as the trans-positive swim time at the Athletic Centre."

Kerr also said the faculty has world-renowned researchers in the areas of equity and social justice who conduct research that informs its academic, sport and recreation programs. 

"The act of raising the flag is another strong signal of our faculty's and U of T's continued support for the 2SLGBTQ+ communities," she said. "Not only does this event signify the beginning of Pride Month, it also shows our dedication to promoting equity, diversity and inclusion at all levels – in research, education and our broad spectrum of Sport & Rec programs and student-driven initiatives."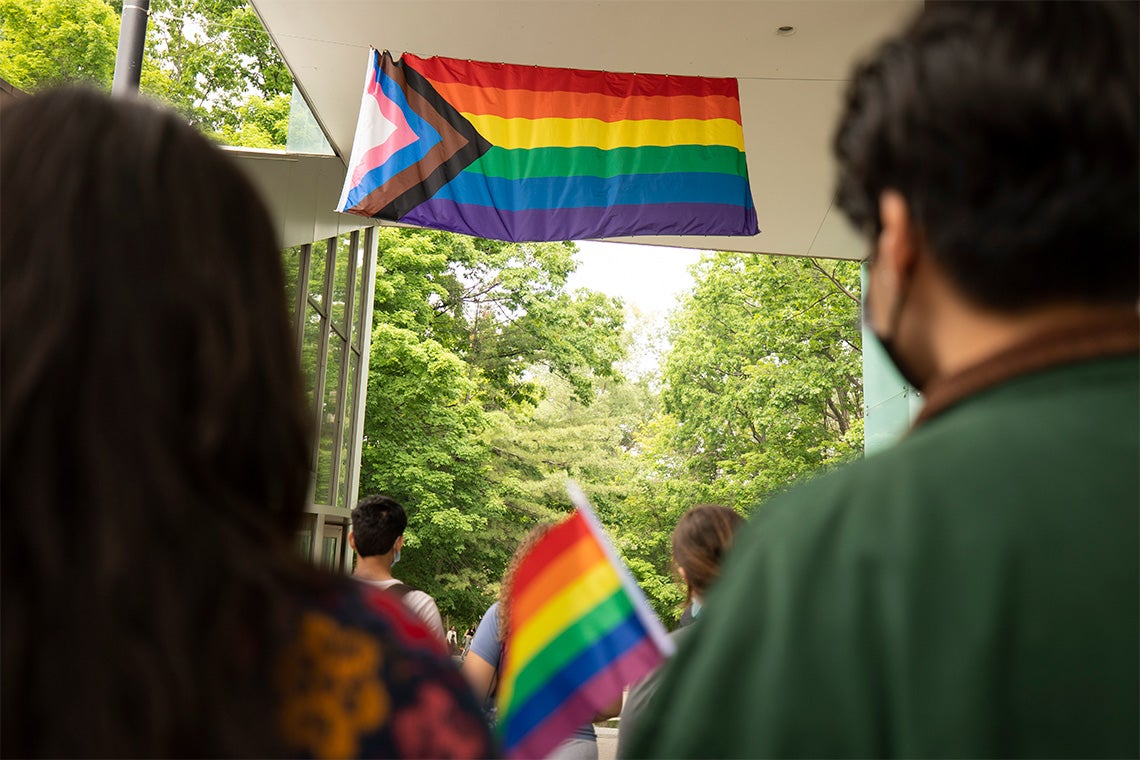 The Progress Pride flag is raised at U of T Mississauga (photo by Nick Iwanyshyn)
Professor Kelly Hannah-Moffat, U of T's vice-president of people strategy, equity and culture, said that raising the Progress Pride flag to mark Pride is especially important within the context of renewed and ongoing efforts at the university to address racism and faith-based discrimination.
Moffat reflected on the history and successes of the fight for equity, saying Pride is a time to recognize the invaluable contributions that 2SLGBTQ+ members of the U of T community have made – and continue to make – to research and teaching, campus life, services and operations, and across all disciplines.

She encouraged members of the U of T community to extend their celebration, advocacy and learning beyond Pride Month, noting that ceremonies such as this one serve to celebrate hard-fought progress and as a reminder that our work is never finished.

Last to speak was Raiya Thomure, who is graduating with a bachelor of kinesiology degree. 

"It means so much to be able to be up here, taking up space as a queer member of the student body in KPE," said Thomure, who identifies as a queer, non-binary, Muslim Arab. "As a queer Muslim, I am often tasked with explaining my connection to the faith or my embracing of queerness, but queer and trans* people should not be tasked with the sanitization or suppression of our identities for the comfort of others.
"The Progress Pride flag rejects this status quo."

Thomure brought attention to Indigenous communities, saying that inclusion of two-spirit/queer Indigenous Peoples needs to be backed up by inclusion of Indigenous knowledge. They also spoke about the importance of not ignoring gender-based violence against trans* athletes. 

Thomure did a self-directed research study in their third year at KPE. They investigated online social media abuse towards a trans woman power-lifter and interviewed five different trans* athletes for their fourth year project. Each had experienced transphobic violence in their current or previous places of sport. 

They and four other students, athletes and alumni of KPE – Val Gerlings, D Bell, Matt Dans and Katie Pajor – were guests of honour at the event and were applauded for work that positively impacts 2SLGBTQ+ peoples' access, participation and inclusion at the university and beyond. 
KPE