U of T provides emergency grants to students to cover unexpected costs related to COVID-19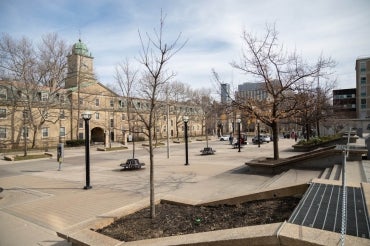 The University of Toronto has provided $2.3 million to more than 2,100 undergraduate students to cover unexpected costs arising from the pandemic – everything from last-minute flights to overdue rent.
Launched in mid-March, the Emergency Student Bursary Fund is designed to assist undergraduate students who are facing difficult financial circumstances due to the novel coronavirus. Typical disbursements range from $500 to $2,000.
Graduate students can also apply for emergency assistance in the form of loans or grants through a separate program.
"Many of our students rely on part-time jobs," says Sandy Welsh, U of T's vice-provost, students. "But many of these jobs have disappeared because of the COVID-19 crisis. Some students are facing difficulty covering the costs of their rent or paying for food, and we expect the difficulty among students to continue."
Several U of T students who have received support from the fund have sent messages to the registrar's offices. "The university has been doing so much to help students during this terrible time. We really, really appreciate it," said one student, who isn't being identified for privacy reasons. "I cannot begin to tell you how helpful this grant is to me in this difficult time. Thank you for your consideration, kindness and generosity," said another.
Other students shared their stories of hardship. One international student at U of T Mississauga, for example, said she learned last month that her parents were unable to work due to COVID-19 and wouldn't be able to transfer funds to cover her April rent payment. To make matters worse, the student said she had been laid off from her part-time job due to the coronavirus, and, with exams approaching, was worried about not being able to pay her bills.
The fund has also helped students studying abroad as they scrambled to return home. One third-year student at U of T Scarborough said he was pursuing an internship in Europe. U of T provided him an emergency grant to cover the extra cost of securing a flight back to Toronto on short notice.
To receive a bursary, students must submit an online application to the registrar in their college or faculty, outlining the costs they need covered and the resources available to them. The registrars vet the applications, and approve most of them – although not always for the full amount requested. Funds are delivered to the student via direct deposit, usually within a week (though there will be no payments in the last week of April due to the university's fiscal year-end).
The program – designed to help students cover basic expenses, including internet, but not educational costs such as tuition – will continue past the end of the spring term.
There is currently no cap on the number of students who can receive funds or on the total amount to be distributed. Students can also apply more than once if their situation changes unexpectedly. Fundraising efforts are underway to support the program.
"This is part of a long-standing commitment U of T has to helping students with financial need," said Richard Levin, U of T's executive director of enrolment services and university registrar.
"We want to be in a position to continue to respond to students' needs at this difficult time."
The COVID-19 fund operates alongside U of T's regular Emergency Student Bursary Fund, which, for many years, has helped students who run out of money near the end of term – for any reason. The regular program supports several dozen students a year.
UTC