U of T program helps student learn German – and lands him a job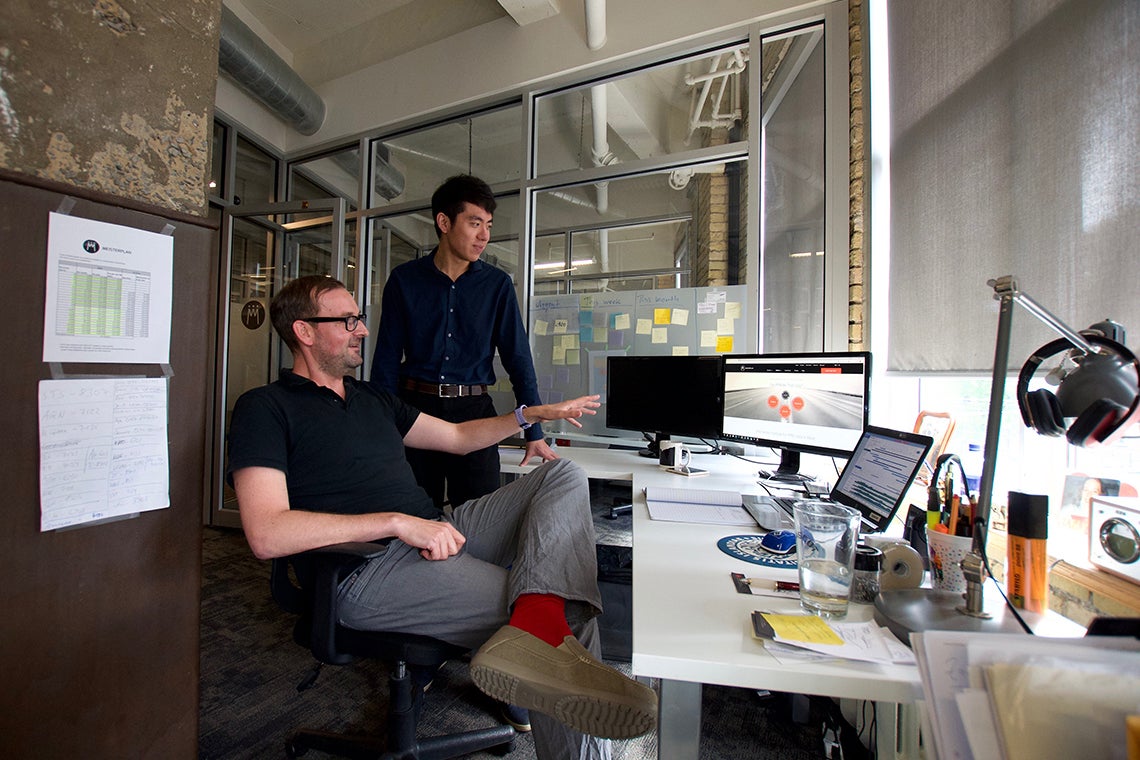 Tianhao Wang started the new school year with a job offer after a successful internship facilitated by an initiative offered by the University of Toronto's department of Germanic languages and literatures.
The fourth-year Faculty of Arts & Science student at St. Michael's College recently completed a summer internship at Meisterplan, a German software company with a downtown Toronto office. Not only was the internship Wang's first job in a professional setting, he plans to continue working with Meisterplan after the company offered him a part-time freelance position throughout his final year of studies. 
Wang was connected to Meisterplan through iPRAKTIKUM, an internationalization and experiential learning program that connects U of T students studying German with internship opportunities at local organizations and business subsidiaries from German-speaking countries. He said he was drawn to the program because it offered an opportunity to expand his German business vocabulary, practice his conversational skills, and glean insights into German work culture. 
"In my opinion, the best way to learn a new language is to actively communicate with people that speak the language," he said. "There isn't a strong presence of German culture in Toronto, so iPRAKTIKUM provides students the best chance to learn German outside the classroom and connect with local and international German communities." 
Wang's internship was the first GTA-based undergraduate placement completed through iPRAKTIKUM. Launched in 2017, the initiative first provided graduate students with internships at German departments in local high schools.  
Undergraduate internships can take place in the summer or during the school year, and are accredited in the form of a co-curricular record, or as part of the iPRAKTIKUM experiential learning and internationalization internship course offered by the German department. The internships are open to all students studying German at U of T, meaning iPRAKTIKUM benefits students from a wide range of disciplines. Wang is completing a bachelor's degree in mathematical application in economics and finance specialist program with a minor in German, and plans to pursue a master's in business analytics internationally after his undergraduate studies.
"The internships are intended to promote global fluency and allow students to practice their German language skills on the job," said Stefan Soldovieri, an associate professor of German who leads iPRAKTIKUM with the department's senior secretary and graduate assistant, Helena Juenger. 
"In addition to providing valuable networking opportunities and practical experience at home, internships with international German organizations can open up future training and career opportunities abroad."
Wang's interest in studying German was sparked by a family road trip through Europe that brought him to southern Germany. Given that Germany is a dominant player in the European economy, Wang thought that knowledge of the German language would provide him with well-rounded communication skills for an increasingly interconnected global economy. 
"I'm fluent in Mandarin Chinese and English, so being able to read and communicate in German would help me obtain first-hand information from China, North America and Europe," said Wang. 
The Meisterplan position interested him because it offered experience in project portfolio management, which he expects to use in his future career. Meisterplan – a subsidiary of itdesign GmbH, a software company headquartered in Tübingen, Germany – developed an innovative tool that helps project portfolio managers and organizations manage multiple projects efficiently. 
"Before the internship, I only had a basic idea of project portfolio management, but now I'm able to understand the detailed processes, methods and terminologies involved," Wang explained.
Although Wang's Meisterplan colleagues in North America spoke English on the job, he was able to improve his German language skills through email correspondence with colleagues in Germany. He also regularly used the company's internal software, which is designed for German-speakers. 
Throughout the internship, Wang provided market research and back-end customer service that was highly valued by the team. 
"Tianhao brought a fresh perspective and outside-of-the-box thinking that helped us look at aspects of our software in ways we hadn't thought of before," said Stephan Anders, Meisterplan's North American director and Wang's supervisor. "We're glad to continue having him on board."
The German department continues to offer undergraduate and graduate internships through iPRAKTIKUM, and will expand the initiative next summer to include opportunities in Germany. 
Arts & Science