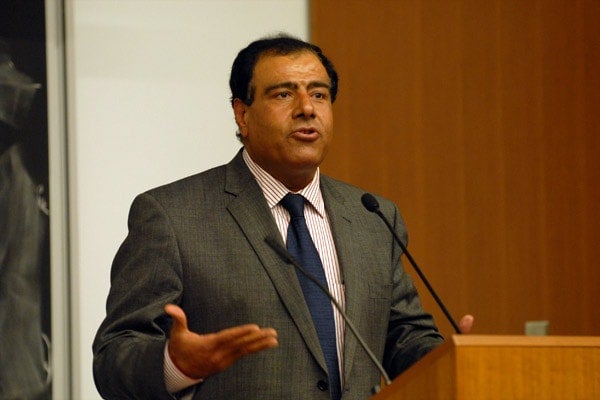 U of T professor wins national, international honours for promoting peace
Italian, Calgary prizes are most recent awards
Accolades continue for Dr. Izzeldin Abuelaish, a Palestinian professor at the University of Toronto's Dalla Lana School of Public Health, who is committed to seeing peace in the Middle East.
Abuelaish, who lost three teenaged daughters in a 2009 Israeli attack on Gaza, was recently honoured with Italy's Lombardy Region Peace Prize, Calabria's Peace Prize and honorary Calabrian citizenship. He will also receive the 2012 Calgary Peace Prize in March.

"His condemnation of violence and his unwavering commitment to promoting peace make him an outstanding nominee," reads the citation from the Consortium of Peace Studies at the University of Calgary, presenters of the prize. "We are honoured to recognize the strength of his conviction to neither hate nor seek revenge, and the multiple ways in which he brings this vital message not only to Israelis and Palestinians, but also to the global community."

The humanitarian awards, the latest in a long string bestowed upon him, are based on Abuelaish's approach to life in the aftermath of his daughters' deaths.  Having spent a number of years working in Israeli hospitals where he treated both Israeli and Palestinian patients, this London- and Harvard-educated native of Gaza's Jabalia refugee camp was determined not to let the loss of his precious children harden his heart. Instead, he has steadfastly campaigned for peace in the Middle East through dialogue between warring parties.

A book detailing his experiences and his philosophy, I Shall Not Hate, is a bestseller in Canada and around the world.

"I know that what I have lost, what was taken from me, will never come back," writes Abuelaish in I Shall Not Hate. "But as a physician and a Muslim of deep faith, I need to move forward to the light, motivated by the spirits of those I lost. I need to bring them to justice … I will keep moving but I need you to join me in this long journey."

Given the continued recognition his humanitarian work receives, it is clear that people worldwide have joined Abuelaish on his journey.