Professor Barry Pakes in Arctic Bay (photo courtesy of Barry Pakes)
U of T's Dr. Barry Pakes has been Nunavut's deputy chief medical officer of health for almost a year.
"It's hard to create comprehensive solutions to complex health problems when you're constantly putting out fires," says Pakes, an assistant professor at the Dalla Lana School of Public Health.
One of those fires is whooping cough, which this year has sickened more than 130 people and sent several infants to intensive care in Ottawa. Another is a common but serious condition called respiratory syncytial virus. Health officials have recorded 88 new cases since September.
"Nunavut has 37,000 people living in 25 communities on land half the size of Western Europe," says Pakes, the director of the Global Health Education Initiative and the Public Health and Preventive Medicine (PHPM) residency program at U of T. "The health issues here stem from a complex interplay of cultural, social and historical factors, extreme remoteness and harsh environment, and the dual burden of infectious and chronic diseases in addition to mental health issues."
Pakes and Dr. Kim Barker, Nunavut's chief medical officer of health who is also a graduate of the University's PHPM program, are trying to develop long-term prevention plans for several diseases. The plan for respiratory disease includes widespread vaccination but also better communication among public health workers, hospital staff and primary-care providers.
"One of the first things I did here was start a small brainstorming group of public health and clinical health care professionals," he says. "The hospital and the Department of Health headquarters were just down the street from each other, but we weren't problem-solving together like we could have been."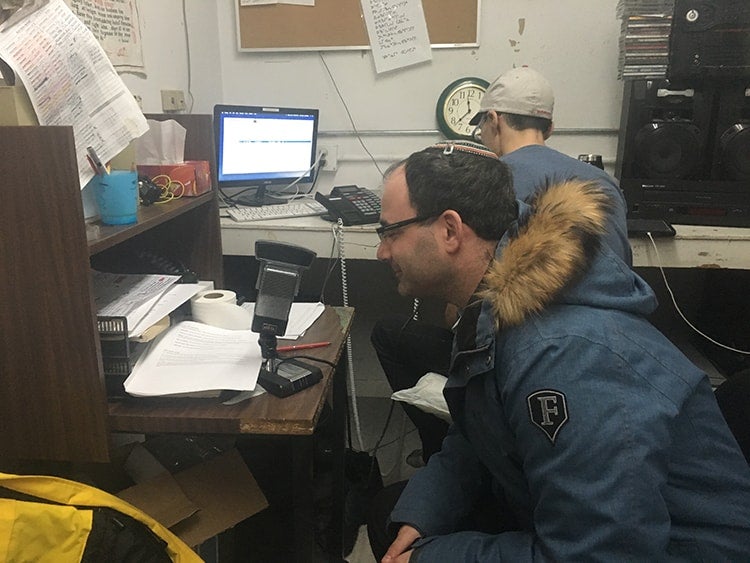 As Nunavut's deputy chief medical officer of health, Professor Barry Pakes did a radio show on tobacco. Mostly elders called in to ask questions and to describe their personal experiences with quitting (photo courtesy of Barry Pakes)
Pakes says a lot of good has come from the meetings, including new ideas about how to reduce Nunavut's high number of medical evacuations, which cost tens of thousands of dollars each.
"With more communication, we can better think about how to organize health services and create a web of prevention that saves lives and resources."
Good communication among the many players in a health system is one lesson Pakes has taken from his years as a global health practitioner and educator. He has been a senior ethics fellow at the World Health Organization and worked in Ethiopia, Zimbabwe and India. He still practices emergency medicine in Northern Ontario and primary care in Barrie.
Pakes's many roles at U of T – and the five children he has with his wife, who is also physician – now keep in him in Toronto most days. But he spends at least one week a month in Nunavut. He says that being based in Toronto is at times a drawback, but that it also lets him act as a conduit between South and North.
"The frameworks we teach to PHPM residents in Toronto are exactly those necessary to address the complex issues in Nunavut so it's very rewarding to bring those perspectives – along with the collective knowledge and overwhelming goodwill of public and allied health experts in Toronto," says Pakes. "At the same time, it's great to share lessons learned in Nunavut with my colleagues in Toronto and in training the next generation of Canadian public health leaders."
Pakes is sensitive to the optics around his background and where he spends his time. He says that Nunavummiut generally don't want to be told how to deal with their problems by people from the South.
"And health issues here are unique," he adds. "Some paradigms of global health overlap with Indigenous health, but there are important differences."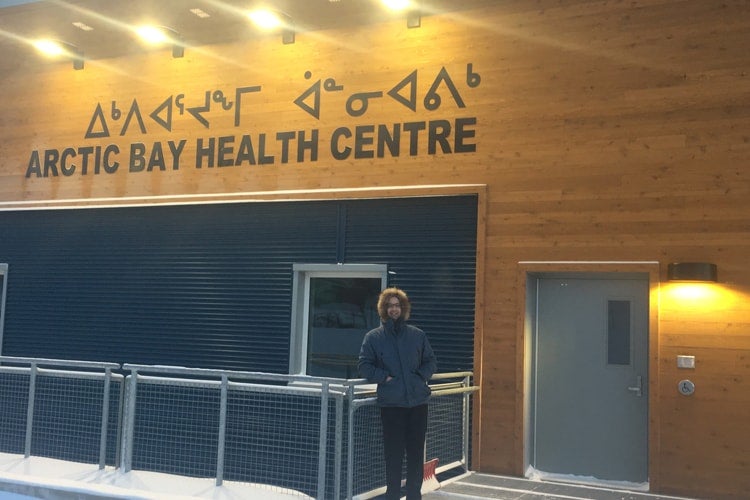 Professor Barry Pakes outside the Arctic Bay Health Centre (photo courtesy of Barry Pakes)
Nunavut's high rates of respiratory disease, relative to the rest of the world, stem in part from overcrowding and smoking in homes. And the mental health issues many residents face – suicide rates in Nunavut are 10 times higher than in the rest of Canada – likely have some roots in Canada's residential school system and the forced displacement of communities, which separated families and pushed many Inuit off their land.
Emma Mew is a master's student in epidemiology at the Dalla Lana School of Public Health. Last summer she worked as a public health consultant in Nunavut, helping the territorial government start to develop a mental health monitoring system to identify at-risk youth and prevent suicide, which in Nunavut often happens in clusters.
"I don't want to speak on behalf of Inuit, but I gather their experience of colonization has been different from other populations," says Mew. "Inuit identity is closely tied to the land so forced relocation together with complex social factors likely affect Inuit mental health and wellness profoundly."
Mew has worked in Tanzania and interned at the World Health Organization, but she says getting things done in Nunavut was harder than anywhere she has worked.
"My department was very cross-cultural, and I feel privileged to have learned so much about Inuit culture from my co-workers. But across the territory, the health workforce is transient – six months is considered long-term – and my impression is that this can exacerbate the divide between Inuit and non-Inuit."
Pakes says that even after ten years of research and a PhD in public health ethics, the ethical dilemmas in Nunavut are some of the most challenging he has faced.
"Inuit culture and self-governance are critically important to every health issue. For example, 'country food' and the connection to the land are paramount. So solutions for food insecurity and poor housing that make sense in urban and warmer areas don't work in the Far North."
He had a cross-cultural 'aha' moment recently while exchanging photos with an Inuit colleague. He proudly showed her a photo of his children, and she responded in kind with a picture of her grandchildren at a feast – two smiling toddlers with their faces covered in seal blood.
And then there is Nunavut's physical remoteness. It often limits access to health services and online mobile technologies that are improving health globally because satellite Internet access is spotty and slow.
But Pakes says Nunavut's cultural vibrancy and diversity make up for many of its geographical and technological challenges. He says people are surprised when he tells them that Nunavut is probably the most 'uniquely Canadian' place he has worked. Iqaluit is home to a flourishing Inuit culture but also a new mosque and many recent immigrants including Cameroonians and a sponsored Syrian family.
"Most days – and daylight can last 18 hours – I feel I can make a real difference," says Pakes. "And not just for one person but for entire communities. That's the incredibly rewarding thing about public health."