U of T professor helps Canada Post create Eid stamp to mark Muslim holidays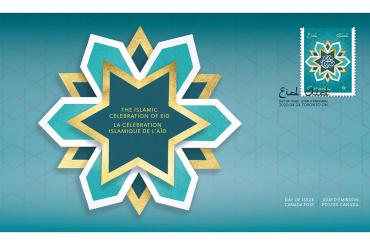 Anver Emon, a professor at the University of Toronto's Faculty of Law and Faculty of Arts & Science, has helped create a Canadian tribute to Islam's most important holidays.
The director of the Institute of Islamic Studies consulted with Canada Post after it commissioned a 2020 stamp in honour of Eid al-Fitr and Eid al-Adha, which are celebrated by Muslims around the world, including more than one million Muslims in Canada.
"I think this stamp is a beautiful testament to the way in which Canada tries to position itself with diversity," said Emon. "It's small, both physically and as a gesture, but I think it also speaks volumes. It's an act of speech that I think we can all benefit from hearing these days."  
The stamp pays tribute to Eid al-Fitr, which marks the end to the holy month of Ramadan, during which many Muslims fast throughout the day. Eid al-Adha, the Festival of Sacrifice, observes the end of the annual pilgrimage to Mecca, the holiest site in Islam.
Often lasting several days, the celebrations include congregational prayers, communal feasts, family gatherings, gift offerings and charitable acts. This year, they begin May 23 and July 30, respectively.
Designed by Toronto's Context Creative, the traditional greeting of Eid Mubarak – "have a blessed festival" – is written in Arabic calligraphy on a background of layered stars. A total of 1.3 million stamps began circulating on April 24 to commemorate the start of Ramadan. "I think it's gorgeous," said Emon. "I've shared it on Facebook. I've shared it on my various social media accounts.
"What's important to me is that there's a certain level of historical accuracy there. The imagery, the background, the symmetry in design – those all have precedents in Islamic history. And, importantly, they are present in contemporary manifestations of this kind of art form."
He was also moved by the passion of Canada Post to make this both visually appealing and significant in its underlying message.
"Everybody I interacted with was very serious about the stamp, very committed – and not just to this stamp, but to this whole genre of stamps that symbolize the inclusion of different communities of culture and religion and value," he said.
"It was one of the most interesting things I've had the privilege to do. As a medieval historian, I focus on the textual tradition and the authors who have long been dead. So working with images, colors, and the committed professionals at Canada Post was a special treat."
Canada Post issued its first Eid stamp in 2017.
Arts & Science