U of T prof uses VR to bring the Lake Huron shoreline to his students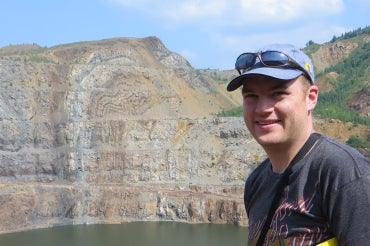 For decades, the rocky north shore of Lake Huron has served as a lab and lecture hall for second-year University of Toronto students learning fundamental geological field skills.
The course, designed for students pursuing an Earth sciences career in research or industry, teaches basic skills such as how to locate yourself on a map by taking compass bearings on landmarks such as islands or hilltops, how to map a shoreline or geological feature such as an outcropping of rock and how to take accurate notes while in the field.
But when pandemic restrictions suspended in-person teaching in mid-March, Dan Gregory, an assistant professor in the Faculty of Arts & Science's department of Earth sciences, set about creating an online version of the two-week field course, which was supposed to take place near White Fish Falls, near Sudbury, Ont.
"I was pretty sure early on that we needed to do something," says Gregory, who migrated the course online with the help of two graduate student teaching assistants and a work-study student. "So I started planning this not long after in-person instruction was cancelled. Then, in early June, we really started running with it."
In place of the mapping exercise that students would have done in the field, the online version of the course had students view a series of short videos recorded by Gregory near Parry Sound, Ont. They cover a 1.5-kilometre stretch of Lake Huron shoreline from different vantage points, which students used to draw a geological map of the site. With the map and other observations, the students then constructed a geologic history of the area.
A VR room 
Students in Assistant Professor Dan Gregory's course explored a 3D virtual reality landscape to map rock outcroppings (video by Dan Gregory and Sofia Panasiuk)
For the course's outcrop mapping module, Gregory and a work-study student created a three-dimensional virtual reality (VR) room by combining existing 3D digital landscapes with the Mozilla Hubs virtual room platform.
The digital landscape contained rock outcroppings, hills, ravines, trees – even a campsite where students could meet virtually with TAs for additional instruction. Students moved through the landscape as if they were playing a first-person video game. But instead of battling enemy warriors or dragons, they located and studied geological features just as they would have in the field.
In other modules, lessons that would have been delivered in the field were turned into short videos featuring a TA and supporting visuals. For example, one TA instructed students on the fundamentals of studying and documenting core samples.
Lukas Louwerse, a member of University College, is entering the fourth and final year of his planetary science specialist program and is continuing on to grad school and a research career focused on the terrestrial planets of the solar system.
"I didn't need the course for my program," he says, "but I took it to gain some practical experience with field techniques and instrumentation which will help me understand the design choices and equipment needed for planetary science missions.
"I found that using digital media such as photos, videos and 3D renders was similar to the work I've seen using telemetry from various planetary rovers and landers – so this course provided me with valuable insights in that regard."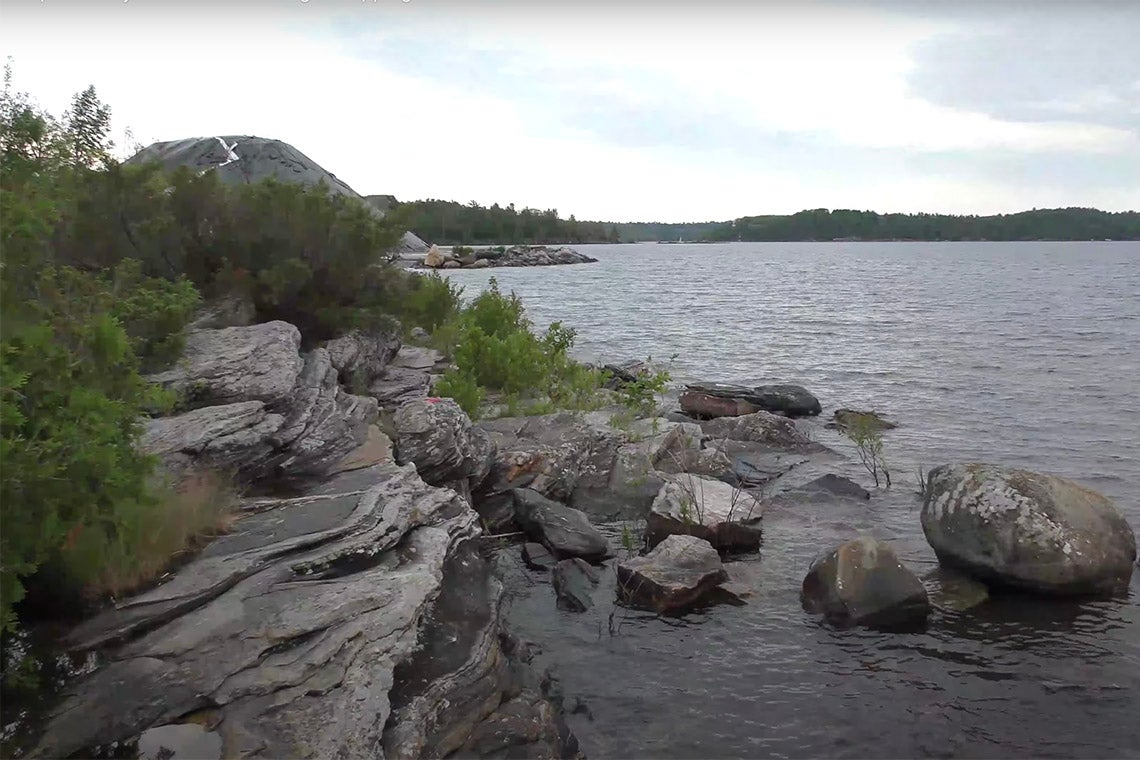 A screen-grab image from Assistant Professor Dan Gregory's video for mapping a stretch of Lake Huron shoreline (photo courtesy of Dan Gregory)
Daryll Bien Concepcion, a member of St. Michael's College, took the course to fulfill a requirement for a degree as an environmental geosciences specialist and for registration upon graduation with the Association of Professional Geoscientists of Ontario. He also found an advantage to taking the online version of the course.
"It allowed us to tap into new technologies such as looking at rock cores – long tubes of rock that were drilled using diamond drills – using an online database set-up by the Minnesota Department of Natural Resources," he says. "This meant we were taught vital techniques that we'll use once we get a job in the geological or mining industries – techniques that weren't taught in the course pre-pandemic."
The virtual field course provided ample opportunities for students to communicate with Gregory and the TAs, and to collaborate with classmates on group assignments. While in the VR landscape, they could talk to each other as they explored the digital terrain. The group also met virtually twice a week using Google Meets and interacted via a discussion board. 
Unanticipated dividends
Gregory says migrating the course online "was a lot of work," but notes the effort may pay dividends even once the pandemic subsides by making the course more accessible.
"There are people who might be dissuaded from taking the course because a mobility issue makes it difficult to be in the field," says Gregory. "Plus, there may be people who aren't comfortable being out in the wilderness for some other reason. This approach could be a useful alternative for them."
Gregory and other Earth sciences colleagues have been hard at work migrating other courses online, solving challenges unique to their very hands-on discipline.
For example, Gregory will be driving around the GTA delivering rock samples to students in his fourth-year economic geology class – with safe distancing and masks.
"Actually holding a real rock is really important," he says. "You can't do that online."
Arts & Science