U of T prof's AI startup, Deep Genomics, raises US$180 million: The Globe and Mail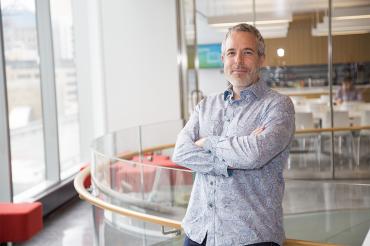 Deep Genomics, an artificial intelligence startup founded by the University of Toronto's Brendan Frey, has secured US$180 million from investors, including Japanese multinational Softbank and Canada Pension Plan Investments, the Globe and Mail reported.
Launched in 2015, the startup uses machine learning to develop treatments for genetic diseases. According to the Globe and Mail, Deep Genomics currently has 10 drugs in pre-clinical development, four of which are set to enter human trials by mid-2023. It is also working with San Francisco Bay-area biopharmaceutical company BioMarin Pharmaceutical Inc. to identify drug candidates for rare diseases.
"These are all new chemical entities that would not exist" without Deep Genomics' technology," Frey, who is CEO of Deep Genomics and a professor in U of T's Faculty of Applied Science & Engineering, told the Globe.
Investors in the funding round also included Fidelity Management & Research Company LLC, Alexandria Venture Investments, Amplitude Ventures, Khosla Ventures, Magnetic Ventures and True Ventures, the company said in a statement.
U of T News