U of T President Meric Gertler offers 'deepest condolences' after terrorist attacks in Sri Lanka on Easter Sunday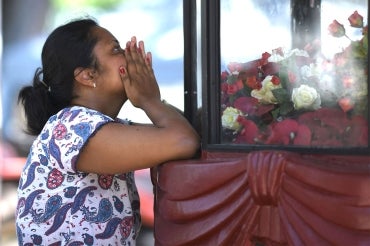 University of Toronto President Meric Gertler has condemned the string of bombings in Sri Lanka on Easter Sunday that left nearly 300 people dead and hundreds more injured.
"The University of Toronto community shares in the shock and sadness felt around the world in response to the terrorist attacks in Sri Lanka yesterday," President Gertler said in a statement on Monday.
"These despicable atrocities were orchestrated on Easter Sunday, the holiest day in the Christian calendar, in a country with a long history of religious pluralism and a culture that is welcoming to foreigners.
"Like all such attacks, they were meant to divide and weaken. We join the Sri Lankan community at U of T and in the Toronto region in hoping that Sri Lanka will only grow in unity and strength as a result."
The co-ordinated bombings on three churches and three luxury hotels represented the deadliest attack in Sri Lanka since the end of the country's civil war in 2009, and drew condemnations from leaders around the world. Mangala Samaraweera, Sri Lanka's finance minister, called the attacks "an attempt to create murder, mayhem and anarchy."
Global Affairs Canada told CBC in a statement that it has no reports of "Canadian citizens being affected" by the attacks.
"On behalf of the university, I extend our deepest condolences to those whose loved ones were killed or injured, and to the people of Sri Lanka," President Gertler said. 
"I offer our full support to members of our community who are grieving or worried about family and friends. I also encourage all those who are in need of assistance in the wake of this terrible news to access the chaplaincy and health and wellness services available on our campuses."
There are vigils planned at churches in Scarborough and Brampton tonight. Liberal MP Gary Anandasangaree, who represents the riding of Scarborough-Rouge Park, said members of the local Sri Lankan community can pay their respects at an inter-faith vigil at Malvern Methodist Church near Morningside Avenue and Sheppard Avenue East, starting at 7 p.m. Another memorial is planned in Gage Park in Brampton at 7 p.m.
Another vigil, hosted by the Tamil Students' Association, is to be held at U of T Scarborough on Friday in the Instructional Centre atrium from 12 to 2 p.m. 
Campus resources for students, staff and faculty include:
St. George, Health & Wellness Centre

U of T Scarborough, Health & Wellness Centre

U of T Mississauga, Health & Counselling Centre

St. George, Campus Chaplains Association

U of T Scarborough, Campus Chaplains Association
U of T Mississauga, Student Engagement Centre, Interfaith

Employee & Family Assistance Program
UTC