U of T President Meric Gertler joins university leaders in call for G7 action to advance peace and security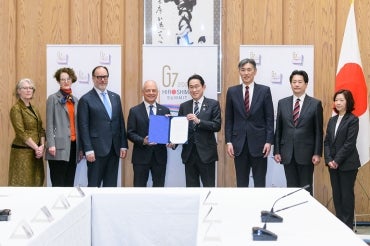 (From left to right: Gwen Burrows, University of Toronto, Annelise Riles, Northwestern University, Daniel Jutras, Université de Montréal, Meric Gertler, University of Toronto, Prime Minister Fumio Kishida, Kohei Itoh, Keio University, Motohiro Tsuchiya, Keio University, and Hideko Sumita, Keio University)
University of Toronto President Meric Gertler and an international coalition of university leaders are calling on G7 countries to leverage the power of education and research in the global mission to advance peace and security. 
The president was among more than 75 university presidents and senior leaders from 16 countries who recently convened, in person and online, at Keio University in Tokyo for the U7+ Alliance of World Universities Presidential Summit. 
The annual meeting of the U7+ Alliance – a global coalition of university presidents committed to taking concrete, collective action to address global challenges – was themed "The Pen is Mightier than the Sword" and explored the role academia can play in fostering a more peaceful and secure world.  
"Education and knowledge creation are vital to building peaceful and sustainable democracies," President Gertler, chair of the U7+ Presidential Steering Committee said in a news release. "To address the global challenges we face, we need collaboration and partnership among universities, governments, communities and industries to foster deeper understanding and greater trust among citizens." 
The discussions were held in advance of the G7 Summit in May in Hiroshima, where G7 leaders are expected to confront the mounting dangers of armed conflict, including the threat of nuclear warfare. The inaugural meeting of the U7+ Alliance was hosted by Sciences Po in Paris in 2019 with the support of French President Emmanuel Macron.  
President Gertler, with colleagues from Keio University, Université de Montréal and Northwestern University, presented the U7+ Tokyo Statement on Peace and Security: Universities as Engines of Innovation for Peace and Security to Japanese Prime Minister Fumio Kishida outlining the alliance's formal commitments to support the G7 agenda through education, research and public engagement that promote peace and security.  
As innovation in warfare has accelerated, there is an urgent need to ramp up innovation in peace and security, notes the statement, endorsed unanimously by all U7+ presidents present at the convening. Universities, and particularly the multilateral U7+ Alliance, are uniquely positioned to generate new solutions as "engines of innovation" powered by the international exchange of knowledge and ideas, the presidents said.  
The U7+ presidents called on G7 leaders to support universities' efforts by investing in education about peace and security at all levels, supporting access to education for those in conflict zones, incorporating the latest research into policy, inviting a diversity of perspectives into high-level policy discussions, defending academic freedom and reducing barriers to student exchanges that cultivate cross-cultural understanding. 
The U7+ Alliance also pledged to: support research on peace and security and share those findings with policymakers and the public; offer opportunities for students to learn about the causes of conflict and peacebuilding strategies; create opportunities for scholars displaced by conflict to study and teach on campuses; and bolster collaboration with the G7, United Nations and other bodies working to deter conflict. 
The commitments align with the U7+ Alliance's broader aims of advancing the role of universities as global actors working together to address pressing world issues. 
"It's time for universities around the world to step up and collaborate across national borders to invest in research and education devoted to a sophisticated understanding of the parameters and pathways of peace," said Annelise Riles, executive director of the Roberta Buffett Institute for Global Affairs and associate provost for Global Affairs at Northwestern University, which serves as home to the U7+ Alliance's secretariat.  
"Crucially, this means leveraging transnational university networks to ensure that differing national perspectives and concerns are reflected in research and practice rather than taking one national perspective as universal." 
The summit was preceded by a conference in February organized by the U7+ Alliance, along with the G7 Research Group and the Centre for the Study of Global Japan at U of T, exploring how universities can contribute to the G7 summit in May.
UTC