U of T plays leading role in effort to develop COVID-19 treatment from recovered patients' blood plasma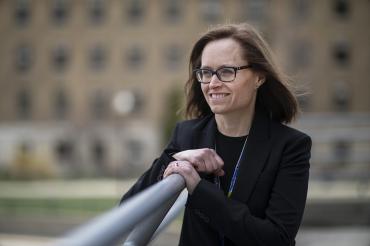 Researchers at the University of Toronto are playing a leading role in a national effort to study the efficacy of using blood plasma from recovered COVID-19 patients to treat those who are sick with the disease. 
The joint effort with researchers at more than 40 Canadian hospitals, the Université de Montréal, University of Ottawa, McMaster University and the University of British Columbia seeks to test whether it helps to transfuse plasma – the pale yellow liquid from whole blood that is rich in antibodies – from people who have recovered from COVID-19 to patients suffering from the illness. 
Antibodies in what's known as "convalescent plasma" could give a boost to the immune system of COVID-19-infected patients to help them fight the disease, says Dr. Jeannie Callum, a professor in the department of laboratory medicine and pathobiology in the Faculty of Medicine and an associate scientist at Sunnybrook Health Sciences Centre.
"Antibodies are kind of like little forks that stick into the virus and assist your immune system," Callum says, adding that the body's immune system sees the virus attached to the end of the fork and tells macrophages and other immune cells to attack it. "It's like your immune system is at war and you provided more tanks to fight the enemy."
Doctors in China and other countries have experimented with antibody-rich convalescent plasma to treat COVID-19 patients, Callum notes. One Chinese study published last month focused on 10 "severe adult cases" and suggested that a dose of plasma from recovered patients was "well tolerated and could significantly increase or maintain the neutralizing antibodies at a high level." 
The Canadian researchers plan to recruit 1,200 adults and 100 children to participate in separate trials to get a much better idea of whether the technique works and, possibly, answer lingering questions about the novel coronavirus, including why it affects adults differently than children.
Dr. Donald Arnold, a hematologist at McMaster University, Dr. Philippe Bégin, an immuno-allergist at the Université de Montréal, and Dr. Julia Upton, an assistant professor of pediatrics at U of T and staff physician at the Hospital for Sick Children, are leading the trials. 
Canada's blood suppliers, Canadian Blood Services and Héma-Québec, will be managing donations of plasma from those who have recovered from COVID-19.
"This is the most promising thing I've seen in a while," tweeted David Fisman, a professor of epidemiology in U of T's Dalla Lana School of Public Health who is cross-appointed to the Faculty of Medicine. Rather than use convalescent serum in intensive care units, Fisman, who isn't involved in the trial, said he could see it being used "upstream" to treat patients before their condition worsens. 
Doctors have experimented with convalescent plasma as a potential treatment for other illnesses, including SARS and MERS, which belong to the same coronavirus family. The history of the approach dates back even longer – to the 1918 Spanish flu pandemic. 
"We know from the use of the [plasma] product in the 1918 pandemic – it suggested that the earlier you use the product the more likely it is to change the patient's outcome," Callum says. 
The researchers have chosen to do the trial in an "intermediate" group of patients, meaning those who have been hospitalized but aren't so sick that they require intensive care and ventilation. 
"We're hoping to turn it around so that the person doesn't need to go on a ventilator or go to the ICU, stays a shorter time in hospital and gets back home," Callum says. 
Dr. Rulan Parekh, a professor of pediatrics and medicine at U of T and associate chief of clinical research at the Hospital for Sick Children, is part of the SickKids group leading the pediatrics component of the trial. Although children tend to have better outcomes from COVID-19, they may have underlying conditions that put them at greater risk and that differ from those often seen in older adults, like diabetes, Parekh says. 
"Even though there are few deaths [among children with COVID-19] that have been reported, it's more likely that they will have a worsening of their clinical symptoms," she says. "We want to see if the convalescent plasma will improve their respiratory findings." 
Because they expect to have fewer study participants in the pediatric trial, researchers will be able to follow patients over a longer period, Upton says. 
Parekh – who is also a staff physician in nephrology at the University Health Network – is also leading a study, with Dr. Dana Devine of UBC and Canadian Blood Services, to follow the donors of convalescent plasma to understand factors that impact immunity.
"We want to study systematically if the virus-neutralizing antibody [concentration] is associated with outcomes in both children and adults," Parekh says. 
Even if the clinical trials support the use of blood plasma as a treatment for COVID-19, it wouldn't make the development of a vaccine any less important. The plasma treatment may help COVID-19 patients get better, but a vaccine would help prevent infection in the first place. "The vaccine is the holy grail," Callum says, adding that the plasma treatment could help buy time until one is developed – a process that experts say may take 12 to 18 months.
For the clinical trial to go forward, Callum says Canadians who have fully recovered from COVID-19 have to be "ready to step up to the plate" and donate plasma – more than once if possible. "We're going to be wholly dependent on their goodwill," she says, adding that the procedure is less taxing than donating whole blood. 
Richard Carl, a former COVID-19 patient who recovered at Sunnybrook, told the Globe and Mail that he already plans to donate. "The thought of asking someone to help fix this thing – I couldn't say yes fast enough," he said.
UTC