U of T plans in-person spring convocation ceremonies at Convocation Hall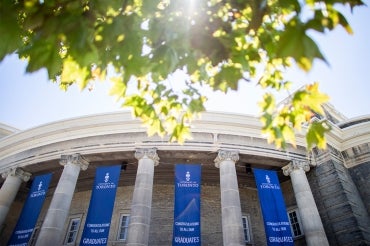 The University of Toronto is planning to celebrate the graduating Class of 2022 this spring with in-person convocation ceremonies at Convocation Hall.
Subject to changes in public health guidance, U of T's spring convocation would comprise 32 individual ceremonies from June 2-24 and more than 15,500 graduating students. U of T's Office of Convocation is working to confirm the capacity of the ceremonies, the number of permitted guests and other details.
As with all in-person gatherings at the university, this year's spring convocation ceremonies will comply with the COVID-19 protocols U of T has in place at that time.
"We are eagerly looking forward to celebrating our graduating students this spring with the return of in-person ceremonies in Convocation Hall," said U of T President Meric Gertler.
"Convocation is a personal highlight for me every year, and the prospect of acknowledging this significant milestone in the physical presence of our graduating students promises to be a particular source of joy.
"I hope it also marks the beginning of a new era as we emerge from the COVID-19 pandemic."
President Gertler added that spring convocation would also be an opportunity to reflect on the many ways students rose to the considerable challenges posed by the COVID-19 pandemic, including remote learning and virtual convocation celebrations for graduating classes in 2020 and 2021.
"As we look ahead to brighter days, we must acknowledge the incredible strength that our students have demonstrated to get to this point, adapting to constantly changing – and challenging – circumstances to complete their academic requirements successfully," he said.
"We also owe a debt of gratitude to U of T's resourceful faculty, staff and librarians for supporting our students on their journeys."
As public health measures are eased across the country, U of T's individual academic divisions are similarly looking forward to organizing in-person events, at a later date, to celebrate students who graduated in 2020 and 2021 (approximately 41,000 graduates in total).
Divisions will be reaching out to graduates in the near future to share details.
While this spring's convocation ceremonies will feature many of the hallmarks of pre-pandemic celebrations, there will be one notable change: The tented Convocation Plaza typically erected on Front Campus will be absent this year due to major construction work underway at King's College Circle. The work is connected to the Landmark Project, which will revitalize the historic core of the St. George campus by making it greener and more walkable while accelerating the university's ambitious sustainability goals and fostering Indigenous placemaking.
U of T Chancellor Rose Patten, who serves as chair of convocation and confers all degrees at the university, said she is keen to be presiding over in-person ceremonies once again.
"Among all the roles and functions that come with being chancellor of this great institution, none can match the joy and satisfaction I experience when I convene a convocation ceremony inside Convocation Hall," Patten said.
"I am filled with a sense of anticipation and deep privilege at the thought of once again being in the presence of our graduating students as they celebrate this most richly deserved achievement."
UTC