U of T physician builds virtual ER system, safer oxygen mask to protect front-line workers from COVID-19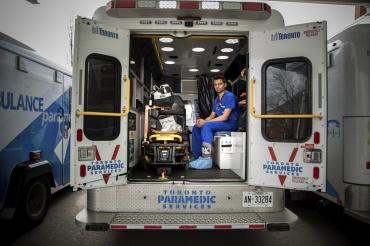 The highly infectious nature of the novel coronavirus has presented doctors with a difficult dilemma: how to treat those who may have COVID-19 while preventing the novel coronavirus from spreading to health-care workers and other patients.
It's a challenge that Sameer Masood, an emergency room (ER) physician at the University Health Network, grapples with daily as he rushes from patient to patient at Toronto General Hospital and Toronto Western Hospital.
So, in a bid to arm himself and his colleagues in the battle against COVID-19, Masood has played a key role in developing two new health-care innovations: a virtual care system for the ER and a novel oxygen mask that filters out exhaled coronavirus particles.
"This virus really has no boundaries when it comes to the way people present with symptoms," says Masood, an assistant professor of emergency medicine in the department of medicine in the University of Toronto's Faculty of Medicine. "We're seeing patients with abdominal pain, stroke-like symptoms, heart attacks, skin rashes, red eyes – it's becoming harder and harder for us to say off the bat who may or may not have COVID-19.
"That presents a unique problem when it comes to protecting both patients and hospital staff."
To reduce the potential for spreading infectious diseases like COVID-19, UHN is piloting an enhanced virtual care system to minimize person-to-person contact. Led by Masood, the project would see patients who enter the ER with mild or moderate complaints – as assessed by a triage nurse – sent to a virtual care room equipped with touchscreen device. The device allows a doctor or nurse practitioner in a different location to converse with the patient, take their medical history and carry out a visual assessment. They would also be able to take patients' vital signs and listen to their heart and lungs using instruments such as digital stethoscopes that are attached to the device and can transmit data to the doctor.
"People are familiar with the stethoscope which has been around doctors' necks for a long time, but we now have the ability to utilize the same technology through a computer," says Masood. "So through a combination of video technology and virtual tools like digital stethoscopes and vital signs monitors, we're now able to do fairly comprehensive exams for patients who present with the typical COVID-19 symptoms, such as shortness of breath and chest pain."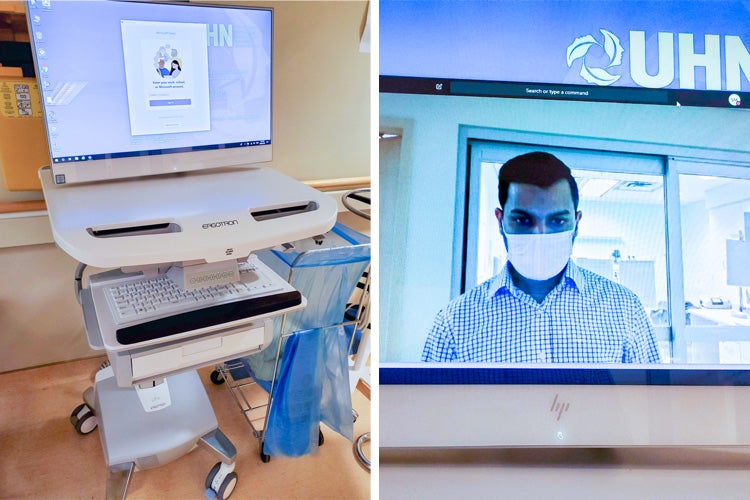 A virtual care system at UHN allows a doctor or nurse practitioner in a different location to converse with the patient, take their medical history and carry out a visual assessment (photo courtesy of Sameer Masood)
The doctor carrying out the remote assessment can also order blood tests, swabs and X-rays if they deem it necessary. If a closer physical examination is required, then a doctor wearing the appropriate protective gear can take over.
The point is to minimize contact when it isn't required.
"Historically, all processes of care in the ER were dependent on us directly interacting with patients," says Masood. "Anyone who's been to the ER would know this is how things have been done for centuries. But with virtual care, we can make it safer by limiting contact between patients and providers."
He says that virtual care could also help improve patient processing times.
"We can provide more capacity for patients by engaging clinicians who can't work in the ER for safety reasons – for example if they're quarantined because they've come back after travelling somewhere, or have mild symptoms but are healthy enough to work from home – to do their work," he says.
Masood adds that the virtual care system, which is being supported by UHN's COVID-19 Innovation Fund, will be trialed in phases over the coming weeks at the emergency departments of Toronto General Hospital and Toronto Western Hospital.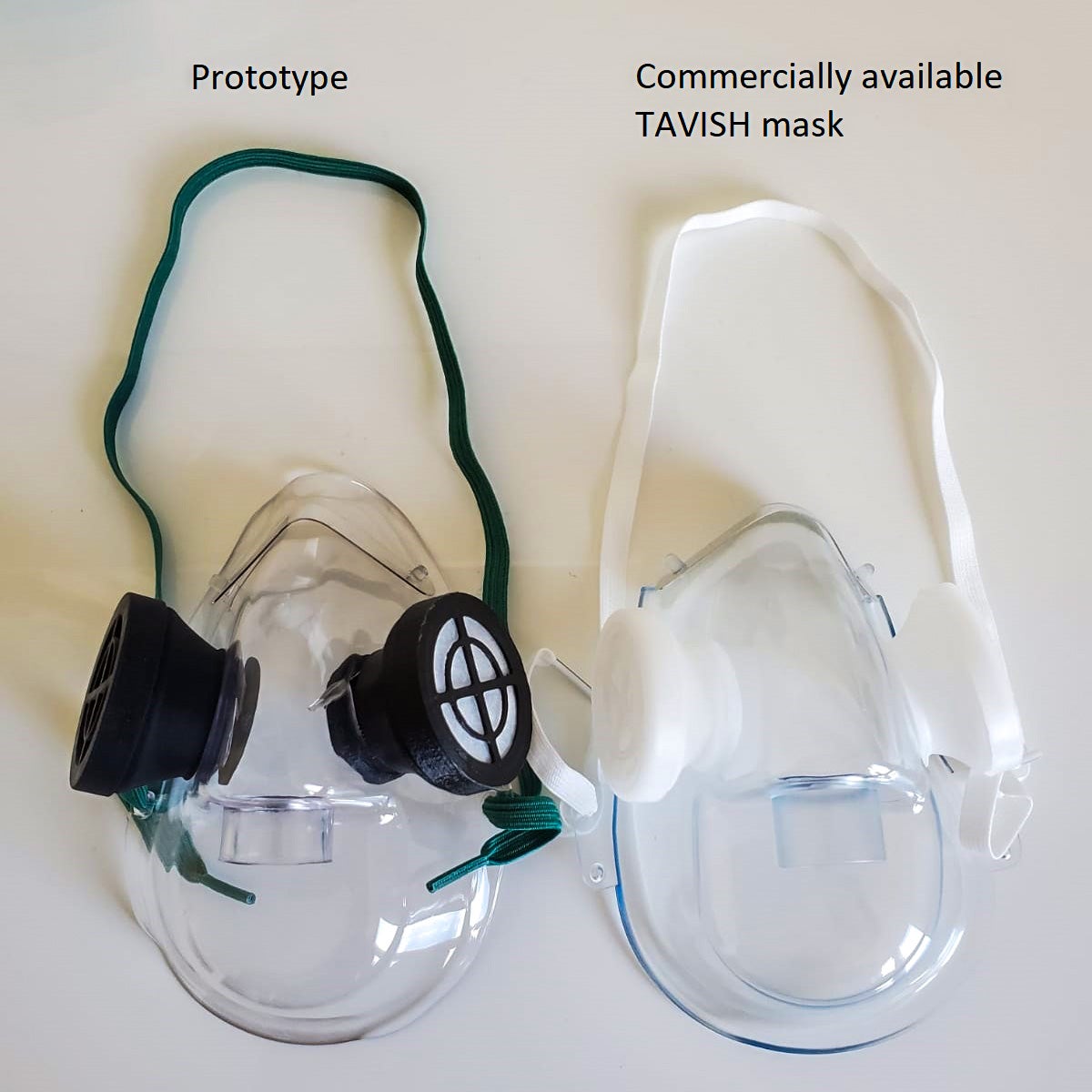 The other innovation he's working on is a face mask that can filter out airborne particles exhaled by COVID-19 patients – a project supported by U of T's Toronto COVID-19 Action Fund.
"We're seeing that a lot of COVID-19 patients are profoundly hypoxic, meaning they have very low levels of oxygen," says Masood. "The primary treatment, which is supportive in nature, is to provide oxygen. But the challenge is that when you get to high levels of oxygen, you start getting into the issue of aerosolization."
That's when particles of COVID-19 spread in airborne form via patients' exhaled breath.
Masood says the ideal solution would be to supply patients with oxygen through a face mask fitted with an exhalation valve, which can filter out the aerosols, but "the challenge is that these masks with exhalation filters are in extremely short supply and are pretty much non-existent in most hospitals now."
That means patients with severe cases of COVID-19, and who require high levels of oxygen, end up being put on a ventilator, which Masood calls a last-ditch intervention.
"We try to really minimize putting patients on a ventilator because we recognize that most patients who don't need a ventilator, when they go on a ventilator, they don't do so well," Masood says. "At least half of them end up dying of COVID. It's not the best solution."
By contrast, Masood's solution is a regular face mask that's retrofitted with exhalation valves designed using 3D printing and modelling.
Masood isn't a designer, so he enlisted the help of his wife, Incia Khalid, an industrial designer, to craft exhalation filters that could be fitted on regular "non-rebreather" masks.
"We started by studying the N95 masks and what their filters looked like and reverse-engineering that process. It's a lot of CAD [computer-assisted design] work and modelling and 3D-printing that goes into before we have it tested," says Khalid, who earned a bachelor of arts in political science and criminology from U of T Mississauga.
She says the mask design has gone through three stages of prototyping. The latest version is made of a special type of resin that can be safely sterilized using an autoclave, a machine used to carry out processes at elevated temperatures and pressures.
"We ended up going with the autoclavable resin as the material because, even though it's more expensive, the fact that you can autoclave and reuse them is of huge benefit to hospitals."
Khalid says the mask is just a few modifications away from being ready for trials. Over the coming weeks, it will be tested in a U of T lab and its aerosol measured  – and it could be introduced in clinical environments as early as June.
For Masood, the mask and virtual care system are examples of how the urgency and scale of the COVID-19 challenge are inspiring a new generation of ideas and solutions in hospitals, supported by a sea-change in attitudes toward health-care innovation.
"Historically, innovation happened outside the hospital," he says. "There was always a disconnect between the front-line providers and the technologies and tools made for them, where they rarely had a say on what's being utilized. So there were often issues from a design and functionality standpoint.
"COVID-19 has been an impetus in that we're trying to change the way we think in health care, and we're realizing the importance of clinicians and front-line providers having input and contributing actively to anything that's being built for their utilization.
"We've really had a rebirth of innovation."
UTC