U of T PhD student named change-maker for developing program for patients with traumatic brain injury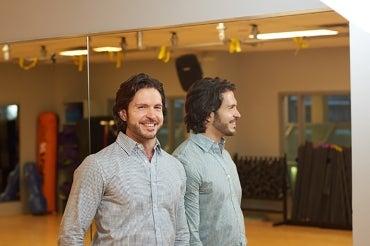 His own experience surviving a traumatic brain injury has fuelled his passion for researching the subject. Now Enrico Quilico, a PhD student at the University of Toronto's Rehabilitation Sciences Institute (RSI), has been named a winner of the 2018 Change-Maker Award by Neurological Health Charities Canada.
Quilico, who is based in Montreal, developed a sports participation program for individuals who have moderate to severe traumatic brain injury (TBI). Supported by a grant from Canada's Social Science and Humanities Research Council (SSHRC)  and with the participation of YMCAs of Québec and the Quebec Association for Traumatic Brain Injury, the nine-month program helps individuals with TBI to learn to work out, integrate into the YMCA community and train for sporting events that have included indoor triathlons and, this year, the Mont-Royal Marathon.
"Individuals with moderate to severe TBI often can't return to full-time employment after their injury, so they have a lot of time on their hands," says Quilico. The program provides participants with structure, an objective and a supportive community.
Quilico's interest in TBI stems from his own experience with the condition. In 2006, he was thrown from the motorcycle he was riding, leaving him with a severe brain injury. He spent two weeks in a coma, three months in hospital, followed by two years of rehabilitation. Quilico credits his return to sports and recreation for his eventual recovery.
"I know that for me, exercise after TBI was the most positive and influential factor in my long-term recovery," he says. In 2016, he completed the Lake Placid Ironman and, in the process, raised over $10,000 for Brain Injury Canada.
Quilico returned to the classroom and became a certified teacher after finishing his bachelor's degree in education at Concordia University in 2012. However, the idea for the YMCA-based program was borne from a health promotions course that Quilico took in 2013 at McGill University while completing a master's degree in kinesiology and physical education. He used that initial blueprint to establish the program in 2017, which now serves as the basis for his PhD, which he's undertaking at U of T under the supervision of Professor Angela Colantonio, director of RSI, and Université de Montréal Professor Bonnie Swaine.
The program begins by establishing a baseline for participants so they can track their progress through different phases of the nine-month program. Quilico and a team of researchers collect data at various points throughout the program to evaluate its impact on participants as they become more physically active and learn to train for a sport challenge. Currently, he's working in partnership with the participants to refine the program and establish a manual so the program can eventually be replicated.
"I foresee this community program becoming an adjunct form of treatment after the final phases of rehabilitation have ceased," Quilico says. The program, which began with an initial cohort of 12 people, has grown to 20 and includes four mentors who previously completed the program.
The Change-Maker Award recognizes individuals who have made a meaningful difference in improving the quality of life for Canadians living with brain conditions. Quilico was nominated for the award by Brain Injury Canada.
"Enrico is so deserving of this award. He has survived near-death, disability, depression, doubt and has demonstrated such resilience. His spirit of determination and drive, like so many others living with acquired brain injury, personifies that acquired brain injury doesn't have to be the end of the road," said Michelle McDonald, executive director of Brain Injury Canada.
In addition to his recognition through the award, Quilico is among the Top 25 finalists for SSHRC's 2019 Storytellers challenge. He was selected by a panel of 25 expert judges from Canada and abroad from the more than 200 entries. As a finalist, he receives a cash prize of $3,000 and the opportunity to compete in the Storytellers Showcase, which will be held at the 2019 Congress of the Humanities and Social Sciences, taking place June 1 to 7 at the University of British Columbia in Vancouver. That is when the final five winners will be selected.
"I feel very supported by U of T and the other members of the team I work with," says Quilico. "I am so proud of what we've been able to establish and I am just thrilled to be conducting research about the value and impact of a community-based, peer-run physical activity program for people who live with a moderate to severe TBI like me."
Medicine