U of T pharmacy students build patient care skills in simulation lab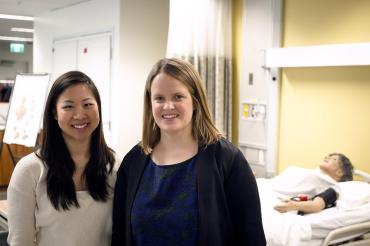 Students in the Doctor of Pharmacy program, called PharmD, at the University of Toronto's Leslie Dan Faculty of Pharmacy are now using medical simulation mannequins to help build patient care skills in a setting that closer to real life.
The second-year course is hosted at the Bloomberg Nursing Simulation Lab (sim lab), a state-of-the art facility designed to provide flexibility in a variety of health-focused teaching and learning contexts.
"The sim lab is ideal for our students because it is a safe environment to practise patient care assessments before moving into a practice setting," says Natalie Crown, assistant professor, teaching stream, at the Leslie Dan Faculty of Pharmacy.
"In the past, students would practise their assessments with a classmate, but this didn't always provide the opportunity to appreciate abnormal physical findings. We can program 'Annie,' the sim mannequin, to present with abnormal heart and lung sounds so students get a sense of what to look and listen for."
The simulations also incorporate case studies that address the application of physical assessment to pharmacy practice.
Jennifer Cheng, a registered nurse at the Hospital for Sick Children (SickKids) and a simulation education specialist, is working with Crown to lead the course.  "Incorporating simulation is an innovative way to teach physical assessment skills," she says. "It allows us as instructors to help support students to further refine their assessment skills. We use the sim mannequin in case studies to allow students to connect physical findings with drug therapy."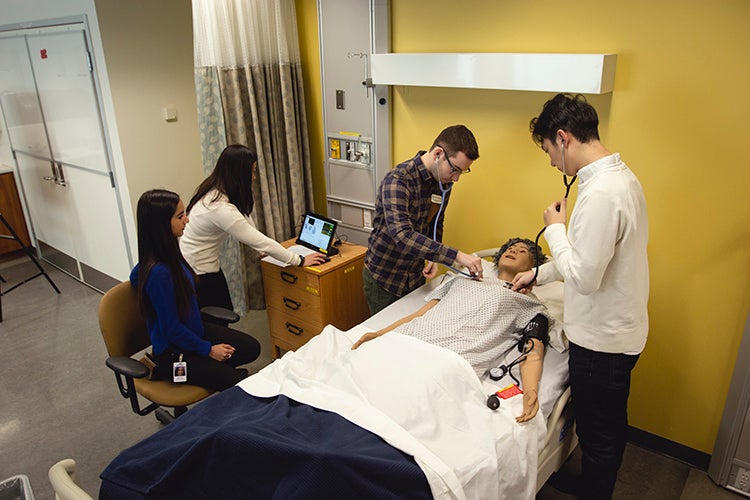 Pharmacy students listen to abnormal heart and lung sounds from 'Annie,' a state-of-the art medical simulation mannequin (photo by Steven Southon)

As highly accessible medication experts, pharmacists have an important role to play in the management of chronic conditions like diabetes or heart failure.  The goal of the simulations is to provide opportunities for pharmacy students to use their knowledge of disease and drug therapy while building their assessment skills.

For example, earlier in the term, students learn about the clinical presentation and treatment of heart failure in a pharmacotherapy course. "We aim to build on that knowledge with opportunities to learn how to assess heart failure symptoms, and to interpret physical findings like peripheral edema, which may indicate a patient's heart failure medications may need to be adjusted," says Crown who is also a pharmacist at Women's College Hospital.
 "Some patients with heart failure self-manage their diuretics in the community. Pharmacists can help these patients by using their assessment skills to teach patients, to monitor and follow up on their drug therapy, and help recognize when changes are needed."
Sami Khan is a second-year PharmD student who appreciates the opportunity to work with the sim mannequin because it will help him to feel prepared when working with patients in the future.
"I really like this course because we are able to build practical clinical skills," he says. "Empathy is important and being able to understand and relate to our patients makes us more connected.
"If we are able to help interpret their results or perform assessments, they will also see that we are informed and a credible source for health information and advice."
Pharmacy