U of T paleontologists uncover 76-million-year-old armoured dinosaur skull
A team of paleontologists affiliated with the University of Toronto and the Royal Ontario Museum (ROM) discovered a 76-million-year-old armoured dinosaur skull over the weekend in Southern Alberta.
The skull belongs to Euoplocephalus – one of the largest plant-eating armoured dinosaurs in Canada. The largely complete skull, found in the heart of Alberta's Badlands, has a broad, rounded snout and is covered with blocky ornamental plates.
A large horn projects down from its cheek, and there's a blunt horn above the eye, writes David Evans, associate professor of ecology & evolutionary biology at U of T and the ROM, via email from the area.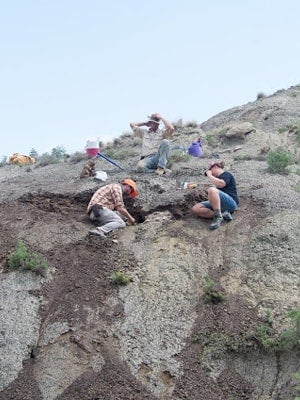 "This is an exciting find for our team," he adds. "Fossil of armoured dinosaurs are very rare, even in places like Alberta where fossils form the Age of Dinosaurs are relatively common. This is the first good skull of an ankylosaur that my team has collected in the last 15 years of digging in southern Alberta, and it is an important find for helping us understand the dinosaur ecosystem at the time, about 75 million years ago."
Evans says the skull was found Aug. 5 by Wendy Sloboda, a renowned Alberta fossil hunter who works with the team.
Euoplocephalus has been found throughout Dinosaur Provincial Park in the Badlands. The team of researchers are on a month-long dig called the Southern Alberta Dinosaur Project, where paleontologists from the ROM and the Cleveland Museum of Natural History in Ohio are trying to look for fossils to learn more about late Cretaceous dinosaurs. The dig is led by Evans and Michael J. Ryan of the Cleveland Museum.
UTC