U of T outreach program imagines public health emergency involving Raptors – and Drake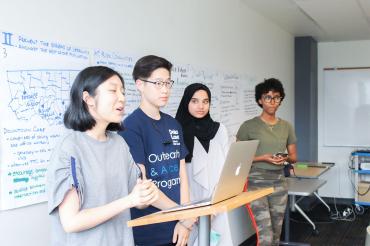 A virus hits Toronto just as the Raptors clinch the NBA championship and crowds pour into the streets. 
For 11 high school students, this was the theoretical challenge they faced. And they had five days this summer to come up with a plan to avert catastrophe.
The students, from Toronto's Marc Garneau Collegiate Institute, were part of the inaugural Outreach and Access Program at the University of Toronto's Dalla Lana School of Public Health. The program is designed to interest high school students, particularly from under-represented communities, to study and pursue careers the field of public health.
"With this case study, students learned four different disciplines in public health, and used them to create the most comprehensive strategy which suits all populations across the city," says Ryan Hinds, the program's co-lead and a former CFL player who works at Toronto Central LHIN and is an alumnus of Dalla Lana's Institute of Health Policy, Management and Evaluation.
"It's a complex ask, and it's challenging, but students looked forward to it."
With the support of Dalla Lana's faculty, Hinds chose the night former Raptor star player Kawhi Leonard reliably drained the free throw that secured the championship to create the fictional outbreak of the "Lebrontis-CoV" virus. In the scenario, the make-believe virus killed seven people who were at Jurassic Park that night – and sickened hip-hop superstar Drake.
Students were asked to provide their strategy to combat Lebrontis-CoV in a 20 minute presentation, with questions from judges who were all Dalla Lana alumni, professors and seasoned public health experts.
"It's not necessarily about applying complex methods and models but rather, can they develop a comprehensive strategy that takes into account all the considerations that they learned this week?" says Hinds.
"We want to shift their thinking from being something that is more cookie-cutter, to grad-level thinking."
Grace Xiong, in Grade 11, says that she now considers public health as a potential career path.
"I wish the program was longer," she says. "It's been a really great experience in terms of getting a better understanding of what public health is. We were actually able to dive deeper and understand the intricacies and nuances of public health."
The program raises awareness of non-traditional career paths in Ontario's health system while stimulating a diverse community of future academic and community leaders who can make a positive impact on their communities' health.
What takes Dalla Lana students two years to master was strategically condensed into a five-day program. Students were exposed to many facets of public health with the help of Dalla Lana's Arjumand Siddiqi, Laura Rosella, Charlotte Lombardo, Emily Seto and Ananya Banerjee. They learned about health structures and systems, social behaviour sciences and health promotion, health informatics and epidemiology.
"It's been empowering to find adults who care that there are students that are very passionate about certain issues. All of the things we learned are applicable to public health but more so for undergraduate and graduate school," says Xiong.
Marc Garneau Collegiate Institute was selected for the pilot as the Thorncliffe Park neighbourhood has one of the highest public health priority needs. Should students continue within the program, they will receive support to attain graduate studies in public health after completing their undergraduate education. Hinds hopes to encourage more of the students to take on public health since they would have a better understanding of their particular community's needs.
Perhaps, he says, they can even run interventions within their school.
"I would have wanted something like this when I was younger," he says. "I wanted something like this before my master's. The fact that they're being exposed to this in high school should help shift how they approach problems and real life situations where you don't have all the answers."
The program at the Marc Garneau Collegiate Institute is co-led by Hinds, Annette Paul, Dalla Lana's director of advancement, and Dean Adalsteinn Brown in partnership with the Ahead of the Game Youth Mentoring Program and The Neighbourhood Organization in Thorncliffe Park.
The program will expand next year to other Toronto-area schools. 
Dalla Lana