U of T ombudsperson lauds mandatory leave of absence policy, critiques high-pressure lab environment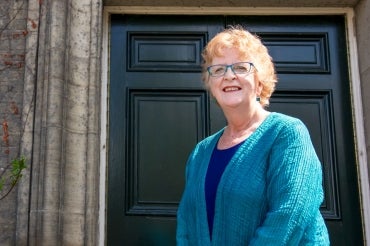 Presenting her annual report to Governing Council, the independent and impartial University of Toronto ombudsperson came out strongly in support of the university's mandated leave of absence policy, saying it was implemented with care and compassion to the benefit of students and the wider U of T community.
Ellen Hodnett said she reviewed the eight cases in which the policy was applied in its first year and came away impressed.
"In my 44 years here, I have never been prouder to be associated with the University of Toronto – seeing the extreme care, diligence, respectfulness and compassion with which the policy was applied in each case," said Hodnett, who is a professor emerita at the Lawrence S. Bloomberg Faculty of Nursing. 
The mandated leave policy was intended to provide the university with a way to help students who display concerning behaviour indicative of extreme mental health challenges or serious health issues. The policy is meant to be used only in exceptional circumstances when all other efforts to accommodate students have been unsuccessful.  
Hodnett said the policy, approved last year, offered a welcome alternative to the punitive, disciplinary measures – such as expulsion – that had previously constituted the university's only recourse in such circumstances.
"Students are now being offered the help they need without ending up with police records and an expulsion from the university," Hodnett told Governing Council on Thursday, adding that the eight students who received assistance under the policy in the previous academic year, as well as the wider university community, were protected from serious harm.
The policy was created on the recommendation of Hodnett's predecessor in the Office of the Ombudsperson, who highlighted the need for a new approach in the office's 2014-2015 annual report. Hodnett said her predecessor was concerned about students who pose a serious danger to themselves or the university community due to a major mental health challenge. Until the policy was created, those students risked police records or disciplinary action. 
Hodnett said she is concerned that misinformation surrounding the policy will have a chilling effect on students seeking mental health support. "The mandated leave policy is both evidence-based and fair," she said. "The continuing protests against the policy are neither evidence-based nor fair."
Established in 1975 and accountable to the Governing Council, the ombudsperson's office helps members of the university community resolve concerns by offering advice and assistance, as well as issuing recommendations for changes in academic or administrative procedures. 
Hodnett assumed the role after nearly four decades of teaching at the Faculty of Nursing. She started her career as a psychiatric nurse before shifting her research focus to labour and delivery.
In her annual report released this week, Hodnett writes that the Office of the Ombudsperson handled 310 cases in 2018-2019, 41 fewer than the previous academic year. Although the numbers were lower, she said the cases were greater in complexity and required more investigations and inquiries, a category of assistance introduced last year.
Healthy labs
On another note, Hodnett recommended launching an initiative to improve the environment of some basic science laboratories, which can be fertile ground for disagreements between students and faculty supervisors. 
Student lab researchers and their supervisors often work in close quarters, facing institutional expectations and competition for resources that can lead to tension. 
"I am well aware that this problem is not unique to the University of Toronto, but rather is found in universities worldwide," she said in her report.
She recommends developing and implementing a strategy that "identifies, celebrates, and effectively communicates the characteristics of optimum learning environments for students in basic science laboratories."
In an interview with U of T News, she added: "U of T has already taken up my suggestion and is running with it, and nothing makes me happier than that."
Joshua Barker, dean of the School of Graduate Studies (SGS), welcomed the report and said the labs issue was already on the school's radar, and that there are plans in place to address it. 
In the coming weeks, SGS will appoint a special adviser – one with knowledge of the U of T community and the lab setting – to report on best practices for creating a healthy lab atmosphere and the established scholarship on the issue. SGS expects to receive the adviser's observations and recommendations by the end of this academic year.
"I think what we need to do is create a culture that really does celebrate healthy labs in all respects – both in terms of a sense of safety, but also healthy relationships among students, post-docs and principal investigators," Barker said.
While the university has many excellent supervisors and labs, Barker said in some circumstances the pressure to produce results quickly and meet funding requirements may lead to conflict.
"We want to create as healthy an environment as we possibly can and make sure our students' needs are prioritized." 
UTC