U of T named one of Canada's Greenest Employers for 2019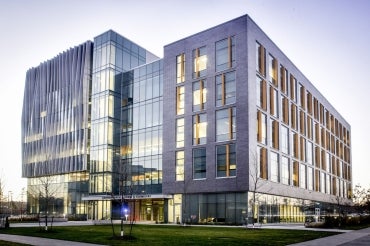 The University of Toronto has been recognized as one of Canada's Greenest Employers in 2019 for the sixth consecutive year.
This designation, issued by editors of the Canada's Top 100 Employers project at Mediacorp Canada Inc., recognizes employers who are leaders in developing exceptional sustainability initiatives and creating a culture of environmental awareness in their organizations.
For the 2019 competition, Mediacorp highlighted U of T's many ongoing efforts to eliminate unnecessary waste, such as the ban of plastic water bottles on its campuses that led to the installation and mapping of new water filling stations in a number of its buildings. The editors also noted the suite of engagement programs – like Green Res, Green Courses and Green Ribbon Awards – to enable and recognize those championing sustainability in student housing, the classroom and daily activities on campus.
In addition, U of T was also selected for incorporating sustainability and green designs into many of its new, renovated and planned buildings. These features include geoexchange heating and cooling systems, green and reflective white roofs, rooftop gardens, solar electricity generation, LED lighting systems, solar hot water heating and rainwater collection systems.
"On an average day, we have over 100,000 people on our campuses. That places us in the top 50 largest population centres in Canada – making us a city within a city. As such, we have a responsibility to advance sustainability across our campuses and community," said Ron Saporta, U of T's chief operating officer, property services and sustainability.
"I am proud of the great work done by our staff and campus operations community that improves what we do on a daily basis to ensure we remain one of Canada's Greenest Employers."
U of T recently completed major projects aimed at reducing current and future greenhouse gas (GHG) emissions across its three campuses. These projects, worth over $50 million in investment and more than 8,500 tonnes in GHG emission reductions, range from new rooftop solar systems to ground source heat pumps. Looking ahead, the university will be updating new building-performance design standards, implementing energy efficiency and GHG reduction measures in existing buildings and expanding programs around waste and water savings opportunities.
"One of our key commitments is to reduce our carbon footprint to meet the challenge of climate change," said Saporta. "We will work collaboratively with our dedicated and sustainability-driven staff, students, and faculty to achieve this goal."
U of T is planning a wood tower and has installed green building features within the past year across all three campuses:
The Environmental Science and Chemistry Building at U of T Scarborough has been recognized for its innovative sustainable design and was awarded the 2018 Institutional Award by the Canada Green Building Council.
The Myhal Centre for Engineering Innovation & Entrepreneurship, on U of T's downtown Toronto campus, opened in 2018 and boasts some of the most sustainable design strategies to maximize energy efficiency, making it one of the most energy-efficient buildings on campus. Highlights include rooftop photovoltaic cells and a series of skylights will reduce dependence on artificial lighting.  
The North Building Phase B at U of T Mississauga opened last summer. Over 80 per cent of the waste from the demolition of the old building was recycled or reused. The building is extremely water-efficient, using 88 per cent less potable water than a conventional building, and also features a rainwater reuse system, which is used for irrigation and toilet flushing. 
HRE