U of T music student to conduct Syrian children's choir that is staying in Canada over border worries
Nai Children's Choir will be performing at the Aga Khan Museum on Canada Day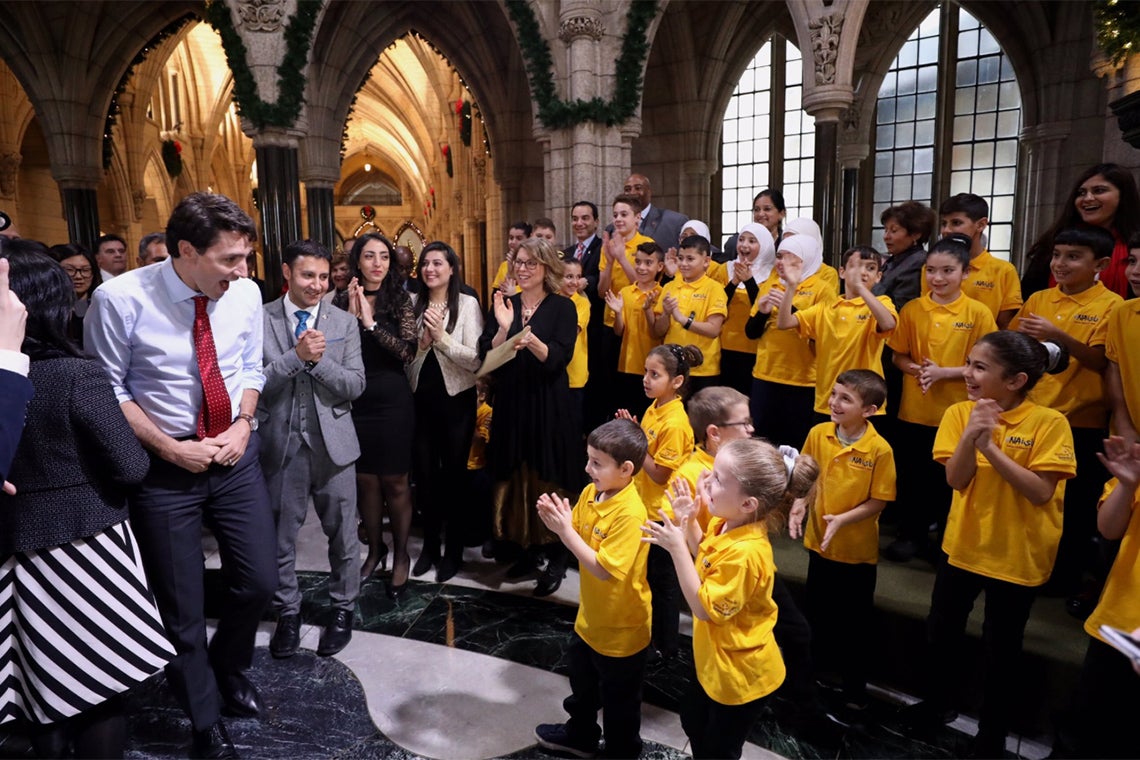 A choir made up of Syrian children will stay in Canada rather than risk getting caught up in the Trump administration's travel ban on mostly Muslim countries.
The Nai Children's Choir, a group of about 40 Syrian kids aged 5 to 13, was asked to perform at a choral festival in Washington, D.C., but turned down the invitation out of concern for the children's ability to travel to the U.S. and back. 
Instead, the choir and its guest conductor Hussein Janmohamed, a PhD student in music education at the University of Toronto, will perform on Canada Day at the Aga Khan Museum.
Many of the choir's members are refugees and some immigrated to Canada just two months ago. The program for their Sunday concert, titled "This World is Possible," includes the national anthem, folkloric Arabic pieces and a traditional South African song as a tribute to Nelson Mandela.
Janmohamed has been involved with the choir for over a year, as a guest conductor and artistic adviser. He was commissioned to write a piece, called "Rise Children, Rise to Peace," which will premiére this weekend.
"We want to sing a song that says, 'Thank you, Canada,'" he says. "We're so happy to be here and make this our home."
Syrian-American rapper and activist Mona Haydar will join the choir on stage.
One parent, Hadeel Abou Ishmes, told the Canadian Press that her two children were upset about not being able to share their music with choirs from around the world at Serenade! Choral Festival in Washington.
But Fei Tang, the general manager of the choir, says she didn't want to "risk the children's mental health" if they were refused entry to the U.S. or if other complications arose.
The ban – which was upheld by the U.S. Supreme Court in a 5-4 ruling on Tuesday – restricts travel from Iran, Libya, Syria, Yemen, and Somalia, as well as Venezuela and North Korea.
While the children won't be travelling to the festival, they recorded a video of their performance that will be screened in the U.S. capital. A livestream of the festival while the video is playing will be shown at the concert at the Aga Khan Museum, so they can watch themselves perform.
Participating in the choir, Tang says, has helped the kids feel more at home in Canada and given them another opportunity to speak their language and connect with their heritage. 
Janmohamed, who is Ismaili Muslim of South Asian descent, says being part of a choir while growing up in western Canada helped him deal with racism and discrimination. He says he wants to help the members of the Nai Children's Choir find the same sense of community while celebrating their traditions. 
"We don't need a visa to celebrate our diversity and multiculturalism," Janmohamed says.
UTC