U of T Mississauga professors find creative ways to engage students online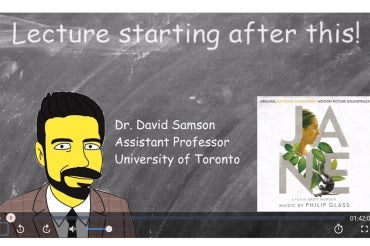 From live streaming on Twitch to creating videos and using student feedback to make improvements, professors at the University of Toronto Mississauga are finding creative ways to keep their lectures interesting and relevant in the digital realm.
And the approach is resonating, students say.
"When you're interested in the content, the lectures are engaging irrespective of whether they're taught online or in person," says Vibhor Rohatgi, a master's student in sustainability management who took an online Natural Hazards course over the summer with Barbara Murck, a professor, teaching stream, in the department of geography, geomatics and environment.
For Murck, a teaching stream professor in the department of geography, geomatics and environment, teaching remotely is nothing new. For about 15 years, she has been teaching ENV100Y5 Environment, a large first-year course, in a dual-delivery format during the academic year. During the summer, the course is online only in a condensed six-week format.
In addition to teaching skills, Murck says there are two main factors that make remote course delivery successful: being authentic and connecting with students. 
"You have to be real, so your students have the feeling that you are an actual person talking to them – especially if the lecture is asynchronous, because you're not meeting them in the hallways where they can chat with you informally," she says.
Murck also took steps to stay connected with her class with daily online office hours. She says students dropped in every day and, even if they didn't drop in, they liked knowing their instructors were available. "With fully online courses, I communicated obsessively with the students," Murck says.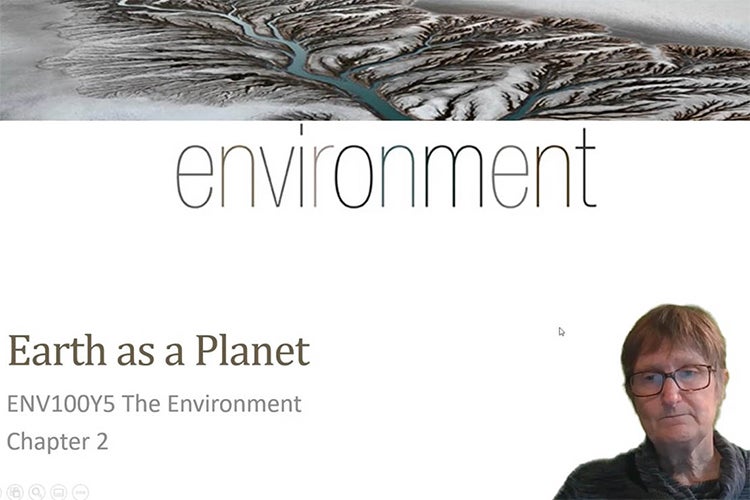 Nicole Chafe, another first-year master's degree student who took Murck's online Natural Hazards course, says that online courses require her to become more disciplined.
"I learned about personal motivation and realized that I had to push myself more," she explains. "It takes determination to be sure to get the work done without the reinforcement of classes.
"My personal preference is still face-to-face classes, but (Murck) was very engaging and it was easy to pay attention to her online lectures."
David Samson, an assistant professor of biological anthropology, live streams his lectures using the Twitch app, often used by gamers. Samson is teaching his first full remote course, Sister Species, this summer.
"One thing I feel makes my classes engaging is my energy and I was afraid I'd lose that online," he says. "I know how critical body language is and, with a lot of remote options, the students couldn't see me gesturing."
Samson found live streaming "much more enjoyable than reading from a PowerPoint and recording myself. It was like having my own little production studio."
Samson held a question and answer session at the end of each class and asked for student feedback about the format. As a result, he was able make tweaks to improve the experience, including, for example, adjusting the font size for his chat boxes.
"I see opportunity in remote delivery," Samson said. "Distance usually prevents students at the other U of T campuses from enrolling in my courses, so why not improve access for the wider student body?"
UTM