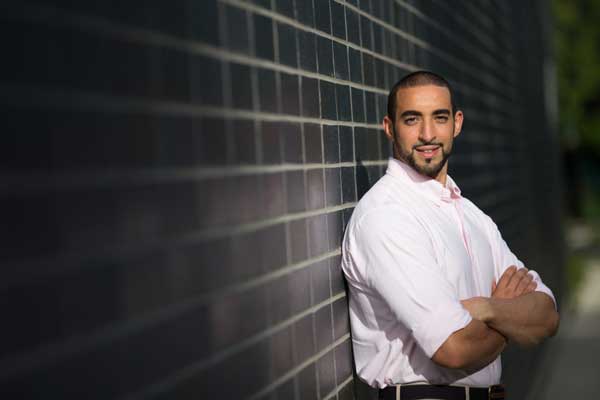 This U of T Mississauga grad is on the Forbes 30 Under 30 list
Forbes cited Mohammed Ashour as a social entrepreneur to watch
Forbes Magazine has named two U of T alumni to its annual 30 Under 30 list.
U of T Mississauga alumnus Mohammed Ashour earned an Honours Bachelor of Science in life sciences from UTM in 2009 and was cited as one to watch in the Social Entrepreneurs category. His startup, Aspire, takes an innovative approach to food insecurity in developing countries by helping locals develop microfarms to cultivate insects for food and profit.
U of T Scarborough grad Satish Kanwar, co-founder of Jet Cooper, a company acquired by Shopify, is also part of Forbes fifth annual 30 under 30 list, in ecommerce and retail. (Read a U of T News article on Kanwar.) Researcher Claudio Guarnieri, who works with U of T's Citizen Lab, also made the list in the entreprise technology sector. (See a Varsity article on Guarnieri.) 
Ashour's Aspire is helping small farmers In Kintampo, a town in the Brohn Ahafo region of Ghana, to cultivate palm weevil larvae, a popular local food. Served grilled, dried, fried, in soups or in stews, the larvae are high in protein, inexpensive to grow and are ready for the dinner plate in just four weeks. The quick maturity of the crop makes the insects a sustainable option for feeding a single family or starting a small business.
"These people typically spend half their income on food, eating a lot of carbs and fats because that's all they can afford," Ashour says. "Insects have protein and other micronutrients people need. And it's a source they already enjoy."
With guidance from Aspire, farmers also get help to turn a profit. "We're aiming at people making between three and five dollars a day," he says.
Ashour, whose favourite insect dish is chili-lime grasshoppers, initially needed convincing to see the wisdom of farming insects.
"I thought it was disgusting and insulting," he says. "Feed poor people insects? But then I did some research and saw that all my assumptions were wrong."
In 2013, Ashour and the Aspire team beat out 250 other proposals to win the $1-million Hult Prize, an award given in partnership with the Clinton Global Initiative to support startups aimed at fixing major social problems.
"The Hult Prize has completely flipped our understanding of serving communities in resource-limited settings," Ahsour says. "The idea that food-insecure urban slum residents are best served by for-profit businesses would have been unthinkable not too long ago."
Social enterprises like Aspire have an important part to play an alongside charities and NGOs in solving global issues like food insecurity, Ahsour adds. "Working in parallel to target different ends of the same spectrum, social enterprises and NGOs are now in a better position to effect global change than either of them could alone."
Aspire is developing another project with farmers in Mexico's Puebla region, along with a cricket-farming operation in Austin, Texas.
Blake Eligh is a writer with U of T Mississauga