U of T marks entrustment of Anti-Asian Racism Working Group Report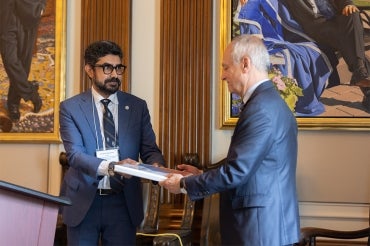 The University of Toronto held a ceremony this week to mark the entrustment of the Anti-Asian Racism Working Group's (AARWG) final report, which includes 40 recommendations to address the often invisible nature of anti-Asian racism and build a more equitable community across U of T's three campuses. 
The ceremony, held in Governing Council Chamber, marked the official handover of the report to U of T's senior leaders, who have accepted all of the report's recommendations.  
U of T President Meric Gertler accepted the report on behalf of the university. 
"I accept and embrace all its recommendations," he said. "We will proceed as quickly as possible to implement the recommendations fully, with transparency and accountability. And we encourage all members of the university community to join in combatting anti-Asian racism, in society and on our three campuses." 
The report's recommendations comprise eight key areas: institutional accountability, data and transparency; communications; hiring, reviews and career development; education, training and mentorship; teaching, curriculum and research; community and belonging; health, wellness and support; and resources (funding, staffing and research). 
"As leaders of the university, we acknowledge that anti-Asian racism is often ignored or even unnoticed," President Gertler said. "We recognize that the richness, complexity and diversity of Asian experience are not as well understood and appreciated as they ought to be. And we see that all too often, the remarkable contributions made by members of the Asian community are taken for granted. 
"We also see a tremendous commitment among members of the U of T community to help lead the way in meeting these challenges. Moreover, we feel very hopeful that the implementation of the working group's recommendations will lead to significant progress in doing so." 
The ceremony began with welcoming remarks and a land acknowledgement by Heather Boon, acting vice-president, people strategy, equity and culture. She also thanked the working group and co-chairs Carol Chin and Vikram Chadalawada for their work on the report. 
"The final report entrusted to the university today provides important guidance for our collective efforts to combat anti-Asian racism – something that many Asian-identifying members of our community have experienced on a personal and structural level," Boon said. 
The AARWG was launched in April 2022 as part of the university's commitment to addressing discrimination and growing anti-Asian racism in the wake of the COVID-19 pandemic, which impacted members of the U of T community. The 39-member AARWG worked over the course of a year to consult with stakeholders and learn more about the experiences and perspectives of students, faculty, librarians and staff. 
"All those consultations produced numerous suggestions from members of the community, and we felt the great responsibility of translating those ideas and wishes into concrete, manageable actions that the university could implement and that would actually make a difference," said Chin, who is also principal of Woodsworth College and an associate professor in the department of history in the Faculty of Arts & Science. 
"We are delighted that the university is accepting all our recommendations and committing to their implementation. And we hope that the diverse members of the Asian-identifying community at U of T feel well represented by the report and feel as hopeful as we do about the outcome." 
Chadalawada, assistant director of student information systems, enterprise applications and solutions integration, thanked those who participated in the AARWG's university-wide survey, focus groups and consultations, and noted visibility was a theme that surfaced throughout the working group's engagement with the U of T community. 
"It is our hope that the report of the Anti-Asian Racism Working Group gives voice to the diverse members of U of T's Asian community and its various diasporas – or, put another way, that it makes 'invisible' experiences of the U of T Asian community become visible," Chadalawada said.  
"And, by making these experiences more visible, it will ensure that addressing anti-Asian racism and supporting members of the U of T Asian community are ongoing priorities across our campuses." 
In its response to the report, U of T's administration said it is implementing proposed actions as a result of the AARWG's work and other ongoing equity-related initiatives, and pledged to take meaningful action on creating a more supportive environment for members of U of T's diverse Asian community. 
Vice-President and Provost Cheryl Regehr thanked the working group for shedding light "on the pervasive existence and effects of anti-Asian racism" and for offering tangible solutions and charting pathways for change. 
"It takes courage to speak up to ask to be seen, understood and valued in ways that historically have been withheld from Asians in Canada," Regehr said. "It takes courage to ask for change and to inspire an entire community to gain a deeper understanding of the experiences of Asian students and colleagues." 
The entrustment ceremony concluded with remarks by Chancellor Rose Patten, who thanked the working group for its leadership in addressing the challenge of anti-Asian racism and noted U of T's institutional commitment to the ideals of an open and just society. 
"The phrase 'inclusive excellence' really does reflect what we strive to achieve and to exemplify. But of course, that does not mean that we won't sometimes fall short, or that we cannot do better," Patten said. 
"In fact, it is precisely because of the principles we stand for and the mission we have set for ourselves that we must always seek to do better. The resurgence of anti-Asian racism is a challenge for all of us – we must rise to the occasion, and must always prevent complacency."
UTC