U of T to mark Remembrance Day 2022 across its three campuses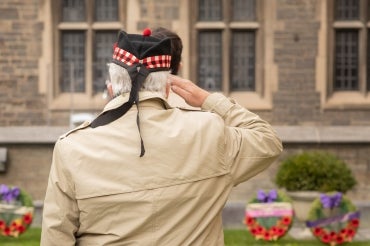 The University of Toronto community will mark Remembrance Day with services across its three campuses in honour of soldiers and veterans, including those who served and fell in the First and Second World Wars, as well as other conflicts.
In-person ceremonies will be held on Nov. 11 and all flags will be flown at half-mast at U of T.  
Here is how each campus plans to mark Remembrance Day 2022:
---
St. George
The Service of Remembrance on the St. George campus will take place at Soldiers' Tower at 10:20 a.m. Students, staff, faculty and librarians are invited to join the service in person or register to watch the livestream.
The service will include a carillon prelude and postlude, words of welcome, a recital of "In Flanders Fields" – a poem written by John McCrae, a Canadian officer, surgeon and U of T graduate – and a reading by Rev. Andrew Wesley, a former Elder-in-Residence at First Nations House who sits on the Council of Aboriginal Initiatives Elders' Circle. 
U of T President Meric Gertler, Chancellor Rose Patten and Anna Kennedy, vice-chair of the governing council, will attend the ceremony and place wreaths at Soldiers' Tower. Representatives from the government, the Canadian Armed Forces, as well as U of T alumni, faculty and students, will also lay wreaths.
U of T Scarborough
U of T Scarborough's string orchestra, concert choir and concert band will perform at the Remembrance Day ceremony at the Meeting Place.
The official ceremony begins at 10:45 a.m. with Wisdom Tettey, U of T Scarborough principal and U of T vice-president, delivering a land acknowledgement and remarks.   
U of T Mississauga
The Remembrance Day ceremony at U of T Mississauga will start at 10:40 a.m. in front of the William G. Davis Building (near the flag pole).
Alexandra Gillespie, U of T Mississauga principal and U of T vice-president, will speak and lay a wreath during the ceremony.
The program also includes a flag lowering and raising, as well as a reading of "In Flanders Fields" by a representative of ECSpeRT, a team of student volunteers with advanced medical first responder training.
UTC