Former Prime Minister John Turner often said, "Democracy doesn't happen by accident" – and he was committed to seeing it flourish in Canada.
Turner, who died Sept. 19, served as federal justice minister and finance minister under Pierre Trudeau, a period that spanned 1968 to 1975. He practised law for nearly a decade before returning to politics, when he briefly succeeded Trudeau as prime minister in 1984. He later went on to serve as leader of the official opposition for six years.
After leaving government, Turner devoted himself to other causes, including the finance committee at St. Michael's College. He also visited the University of Toronto campus for public speaking events, where he shared political insights and revisited his argument against the North American Free Trade Agreement, or NAFTA. He was awarded an honorary degree from U of T in 1996.
"He was a person of huge integrity," says Richard Alway, who was president of the University of St. Michael's College from 1990 to 2008 and knew Turner for more than 40 years.
"As Brian Mulroney said in his tribute on the CBC, Turner had 'no malice.' The political divisions might be there, but he had friends in every party."
In his memory, U of T plans to lower flags on campus to half-mast today as Turner is honoured with a state funeral.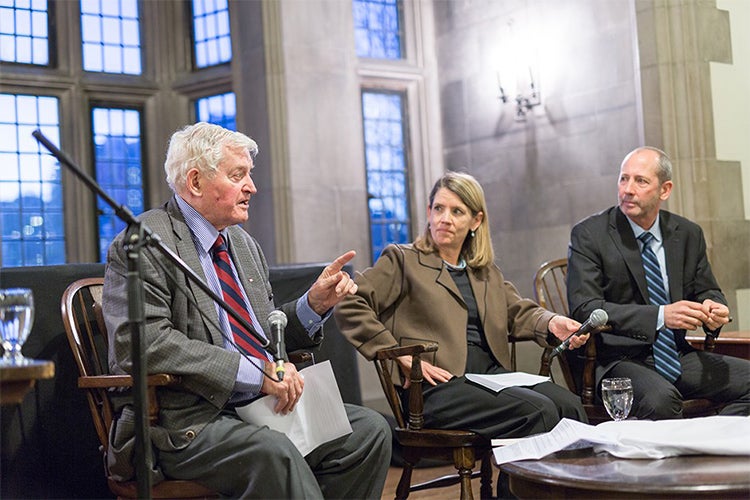 Former Prime Minister John Turner speaks at Hart House in 2015 (photo by Nathan Chan)
As a young man, Turner excelled at school and athletics. He studied political science at the University of British Columbia, where he also set the Canadian record for the 100-metre dash and qualified for the Olympic Games. He later studied at Oxford, on a Rhodes Scholarship, and the Sorbonne.
Turner was first elected to the House of Commons in 1962 and his reputation grew several years later when he ran for the Liberal leadership, losing to Pierre Trudeau. As justice minister, he sponsored Criminal Code reform, triggered emergency powers during the October Crisis and helped introduce legal aid.
The last of these actions was among his proudest achievements in government, according to Alway.
"He thought this was tremendously important in broad social terms and would be seen as a lasting achievement and something that made a big difference to society," he says.
Alway described Turner as an "eternal boy scout," who saw politics as a vocation rather than a career. In Turner's later years, he often participated in public speaking events where he encouraged young people to consider public life.
"In fact, he would say they had a duty to do that," Alway says. "Because if they had been given gifts, it was a requirement to give back."