U of T literature and physics researchers recognized with Polanyi Prizes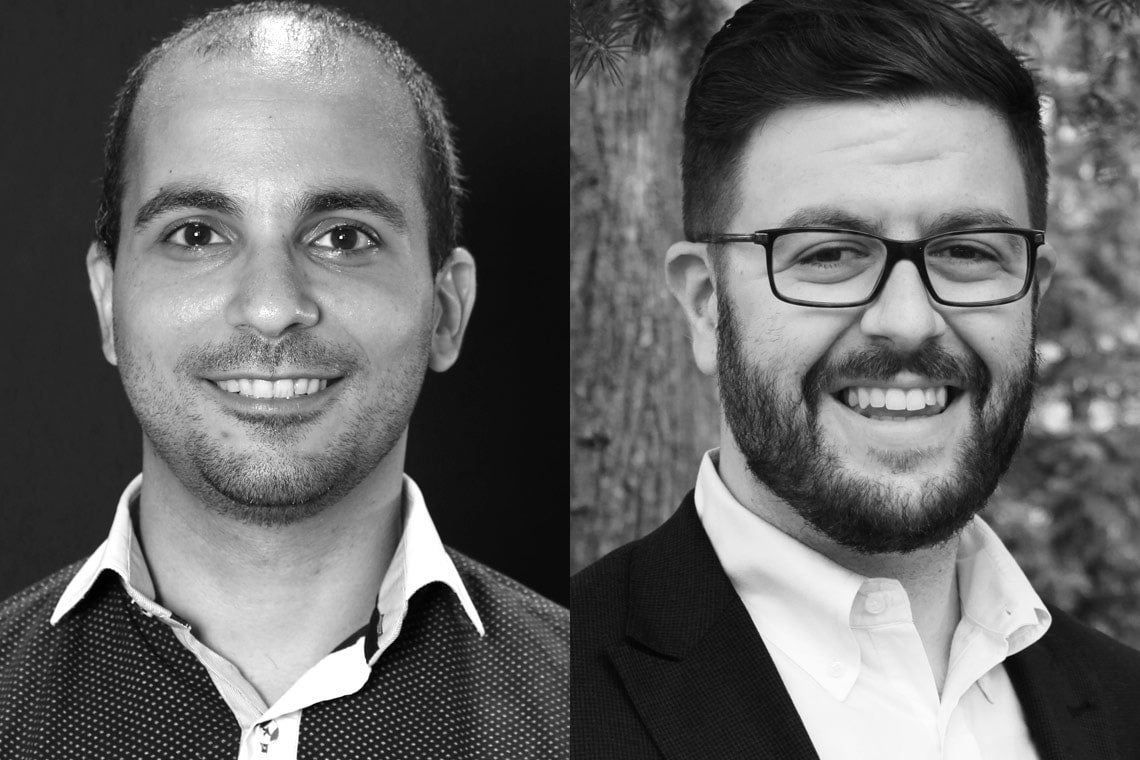 Two University of Toronto researchers, Daniel Wright and Ioannis (John) Antoniadis, have won Polanyi Prizes – Wright for his work examining the political creativity of Victorian poets and novelists and Antoniadis for his research into pulsars as laboratories to study fundamental physics.
"It's a real honour. It's heartening that a prize like the Polanyi recognizes the humanities alongside fields like the sciences and medicine," said Wright, an assistant professor in English at U of T Mississauga.
Also among this year's winners is alumnus Stephen Newman. Newman, who earned his PhD at U of T, is now assistant professor and Tier 2 Canada Research Chair in the University of Ottawa's department of chemistry and biomolecular sciences.
The prize, awarded by the Council of Ontario Universities, was created to honour the achievement of U of T's John Charles Polanyi, who won the 1986 Nobel Prize in Chemistry.
Up to five Polanyi prizes worth $20,000 are awarded each year to outstanding researchers in the early stages of their career who are continuing to post-doctoral studies or have recently started a faculty appointment at an Ontario university. They are available in physics, chemistry, physiology or medicine, literature and economic science.
"Recipients of the Polanyi Prizes represent the best university-based researchers across Ontario, and this year's group is no exception," said Deb Matthews, Ontario's minister of advanced education and skills development.
Wright's research, which won in the literature category, examines the novels and poems of mid-19th century writers like Elizabeth Gaskell and Charles Dickens, who used their work to probe and draw larger public attention to the social problems of the Industrial Revolution.
"We often hold that literature has the power to cultivate new modes of sympathy, to change hearts and minds and to give form to complex political arguments," Wright said. "And yet despite our hopeful conviction that literary art has political effects, we must also admit that these effects are diffuse, slow, unsteady and unpredictable."
The political questions writers in the Victorian period wrestled with may be different than those we confront in the 21st century but their struggle with the question of a novelist's or poet's capacity to act as a leader of political change is one that remains relevant today, he explained.
"I argue that Victorian poets and novelists cope with the problem of the political ineffectuality of literary art through a multifaceted appeal to the cultivation of creativity as a political practice," he said. "What I call 'political creativity' is an absorption in the present moment by which the future is made multiple in its possibilities, radically open-ended and therefore radically malleable."
The Polanyi winner in physics, Antoniadis, is a researcher at U of T's Dunlap Institute for Astronomy & Astrophysics. In 2013, he was part of an international team that discovered the most massive neutron star to date – PSR J0348+0432 – which is located more than 5,000 light years from Earth in the Milky Way Galaxy. That may seem like a long way away – and it is – but in the vastness of space, it's still "located in the neighbourhood," he said.
Neutron stars are both incredibly dense and very small, Antoniadis said. For example, PSR J0348+0432 is twice as heavy as the Sun but smaller than Toronto.
They are also very "stable rotators that resemble very precise clocks," which makes them ideal to study the underlying laws of physics like gravitational waves, but "we don't know how physics work in their core," he said.
Eventually, neutron stars turn into black holes but no one knows "their tipping point yet," Antoniadis explained. "We're not trying to find one that will collapse in real time."
Canada and Toronto, in particular, is a magnet for this type of research since the pulsar community here is small but quite active, he says.
And there is a lot of excitement about the CHIME project, also known as the Canadian Hydrogen Intensity Mapping Experiment, which is led by a team of Canadian cosmologists, including Dunlap's Assistant Professor Keith Vanderlinde.
The new ground-breaking radio telescope at the Dominion Radio Astrophysical Observatory in British Columbia will map the 21-centimetre signature of neutral hydrogen within the largest volume of space ever surveyed, encompassing a 3D swath of the universe that covers half the sky and is billions of light years deep.