U of T library project takes the cost burden out of course packs
The zero-to-low cost course project is estimated to have saved students over $400,000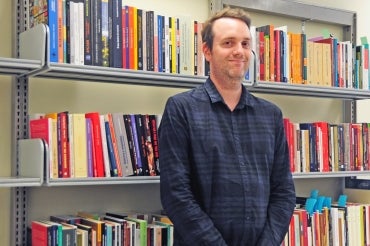 When 1,900 University of Toronto students sat in on their first lectures of the year, they were in for a pleasant surprise.
Their professors stood in front of the class and proudly proclaimed that students didn't have to pay a thing for their course readings. They would be able to access all of their readings online thanks to the zero-to-low cost course (ZTLCC) project. 
The project connects professors with librarians to find ways of sourcing course material digitally.  
"Students were paying exorbitant prices for these course packs for things that were already available for free," says Graeme Slaght, copyright outreach librarian at U of T libraries' scholarly communications and copyright office.
The program, run by the copyright office, is estimated to have saved students over $400,000 since 2015. 
Slaght says the cost of non-digital course packs can range from $40 to over $200. 
The project was launched in the fall of 2014 after U of T decided to manage its own copyright dealings instead of utilizing the non-profit licensing service, Access Copyright.
Most of the material the university sources is part of U of T libraries' electronic collections. The rest was obtained through the fair-dealing provision of the Copyright Act, which allows academic institutions to use copyrighted material, for which they may not have a license, as long as they meet certain criteria. 
Professors from all three campuses can contact the copyright office if they want to participate in the project. 
Kate Neville did just that. The assistant professor of political science, cross appointed with the School of the Environment, took advantage of the project as soon as she began teaching at U of T last year. 
The copyright office says each of Neville's students has saved $118.
"I really like the idea of using resources that U of T already has to help students minimize their additional costs for an already expensive education," she says. 
Neville says the program has allowed her to be flexible with the content she includes in the course.
"One of the nice things about the online readings is you can add readings later on that puts them with the rest of [students'] readings," she says. "I liked the idea of a streamlined system that was integrated with a course website that they already had to be checking."
And the library made the process easy and straightforward.
"Rather than me having to find those resources, photocopy them, provide them as you do for most of the course pack work, they did that groundwork," says Neville. "I'm really appreciative of the library thinking of innovative ways to help students access materials."
And the students are grateful as well.
"I had a student after an exam come up to me specifically to say that they were very pleased I had used this online reading source. They were glad to not to have had to buy a course pack," Neville says.
Managing electronic resources is very complex and the resource librarian role is relatively new, says Slaght. 
"So a lot of these issues like the value for electronic resources in teaching specifically and cost mitigation, there haven't been many librarians who have been able to do a calculation on the value," he says. "Identifying that through these courses has been making that possible."  
Beyond this program, course reserves and syllabus services are also offered at all three campuses to help instructors deal with copyright issues, make readings available digitally and convert print to digital materials.