U of T law student helps reform trans rights in Israel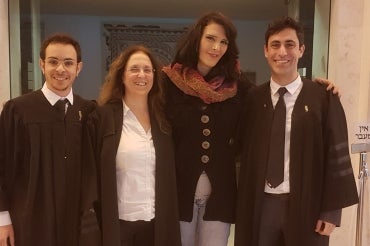 A Doctor of Juridical Science (SJD) student at the University of Toronto's Faculty of Law is seeing the payoff for his advocacy and research work on the rights of trans inmates in Israel's prison system.
Until now, the unspoken policy has been that prisoners or detainees whose gender identity was "ambiguous" should be kept in administrative segregation. Thanks to Ido Katri's work and that of his colleagues in Israel, the prison service recently announced that it will no longer keep transgender inmates in isolation.
The changes along with Katri's involvement have been featured in various Israeli media, including Haaretz.
"What we've achieved so far is pretty much more than what I had envisioned when we started doing this research," said Katri, whose graduate dissertation is on gender self-determination around the world. "All of this happened within 18 months."
Prior to coming to U of T in 2012, Katri had been working as a human rights lawyer in Israel and Palestine. He co-founded the grassroots action group, the Gila Project for Trans Empowerment, and helped start Transgender for Social Justice, the first registered association under Israeli law dedicated to promoting gender diversity. He also worked as a lawyer for the Gisha Center for Freedom of Movement, fighting for the rights of residents in Gaza.
Here in Canada, Katri was named a Pierre Elliott Trudeau Foundation Scholar and a Vanier Canada Scholar in 2016. He's currently working on "Troubling Gender Self-Determination," a legal ethnographic project documenting the rise of trans political and legal demands, working under the supervision of Brenda Cossman, professor and director of the Mark S. Bonham Centre for Sexual Diversity Studies.
As part of his work comparing laws related to trans people in both Canada and Israel, he began researching Israel's prison system. He and another colleague, Lihi Yona of Columbia University and the Israel Democratic Institute, soon found that trans people were being kept alone in small cells, in a separate part of the prison. It wasn't until the duo brought to the Israeli Supreme Court the case of a transgender woman, Doreen Bilia, who had been arrested following a fight with neighbours and kept in solitary confinement in a men's prison, that authorities were forced to disclose their unwritten policy.
A lot of Katri's research and uncovered data was used in the petition itself. Katri also began lobbying politicians at the same time, and soon the Supreme Court demanded the prison system put its policy in writing, forcing authorities to make reforms they declared in court and then document it as policy, Katri said.
Katri is currently in Israel as a visiting scholar at Tel Aviv University. Along with completing his dissertation, he hopes to turn his sights next to comaprative research on trans people's participation in the military in Canada, the U.S. and Israel.
UTC