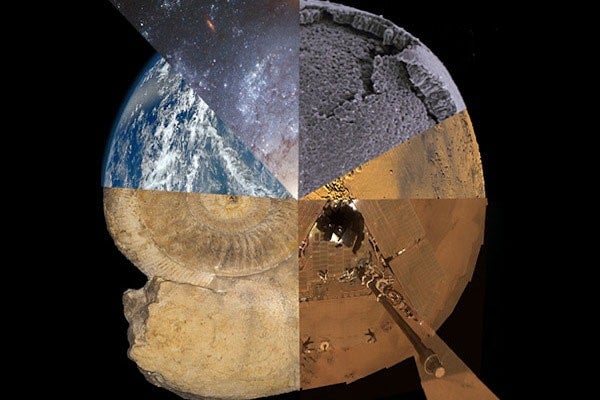 U of T launches Toronto Science Festival
In September 2013, the University of Toronto is launching a major new event on Toronto's cultural scene.
The Toronto Science Festival will be a weekend-long public celebration of science, spotlighting leading researchers from the university and from around Canada and the U.S.
The festival will include engaging keynote talks, lively panel discussions, film screenings, live musical and dance performances, as well as a Café Scientifique "brunch-with-a-scientist" event.
It will take place over the weekend of September 27th, 28th and 29th at various venues on the university's downtown St. George campus.
"Science is the best way we've come up with to explore our world and the worlds around us," said Jim Bell, (pictured left) a planetary scientist involved in the Mars Curiosity Rover mission and a festival keynote speaker.
"Events like the Toronto Science Festival provide remarkable and exciting opportunities to engage the public in the joy and adventure of science."
The theme of the festival is Life in the Universe. Speakers and panellists will explore and debate such topics as the origin and evolution of life on Earth, extreme forms of life, even the search for intelligent life beyond our planet.
"There is much to learn about life on this planet, and much to do in order to preserve it," said keynote speaker and evolutionary biologist Sean B. Carroll. "Plus, the question of life elsewhere in the Universe is one of the great, profound, yet unanswered questions in science."
TSF panelist Shelley Wright (pictured below) an astronomer at the university's Dunlap Institute for Astronomy & Astrophysics, is a member of a panel that will discuss the search for extraterrestrial intelligence, or SETI—a panel that will include SETI pioneer Jill Tarter.
"I'm looking forward to a lively discussion amongst scientists with contrasting views," Wright said. "Should we be searching for ET? Should we be trying to communicate? These questions will generate some sparks."
In addition to talks and panel discussions, festival-goers will experience the joy of scientific discovery first-hand, by viewing extreme life-forms through microscopes and by scanning the skies during telescope observing sessions. And for those who prefer a virtual sky, there will be planetarium shows.
Diane Nalini is a former professor of physics and is currently a climate change policy analyst with Environment Canada, but she won't be speaking or taking part in a TSF panel. Nalini is also a jazz singer/songwriter, and she will be performing during the festival. Rounding out the cultural portion of the festival will be evocative performances by the progressive Toronto dance company, inDANCE.
Organizers expect the Toronto Science Festival to become a permanent fixture on Toronto's cultural calendar.
 "Science—like music, art or literature—is meant to be shared. It is essential," said Carroll (pictured left).
The festival is co-sponsored by U of T Science Engagement through the Senior Advisor to the President on Science Engagement and by the Dunlap Institute for Astronomy & Astrophysics, in collaboration with Faculty of Arts & Science academic units and administrative offices. (Read more about science engagment at U of T.) (Read more about the Dunlap Institute at U of T.)
Those units and offices include: Department of Astronomy & Astrophysics; Department of Cell & Systems Biology; Department of Earth Sciences; Department of Ecology & Evolutionary Biology; Canadian Institute for Theoretical Astrophysics; Alumni Relations, Faculty of Arts & Science; Alumni Relations, University Advancement. Partners outside the university include the Royal Astronomical Society of Canada.
Festival organizers invite everyone to visit http://www.tsf.utoronto.ca for more details and to sign up for festival updates as plans are revealed. The public is also invited to get updates and join the conversation by following the festival on Twitter: @tosciencefest.
Chris Sasaki is a writer with U of T's Dunlap Institute for Astronomy & Astrophysics.