U of T launches project to provide free menstrual hygiene products on St. George campus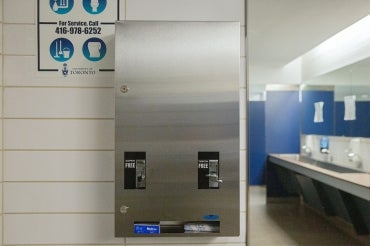 Students and other members of the University of Toronto community on the St. George campus now have free access to menstrual hygiene products in a growing number of high-traffic washrooms.
The Office of the Vice-Provost, Students and Facilities & Services have collaborated to install menstrual hygiene product dispensers in 75 female, male and gender-inclusive washrooms in seven buildings. The dispensers will provide free sanitary pads and tampons.
The pilot project, launched this month, aims to address stigma around menstruation and provide an equitable and inclusive environment for the U of T community.
"Access to these products is not merely an issue of convenience," says Sandy Welsh, U of T's vice-provost, students. "This is an issue of equity. Free access to these products helps to reduce financial barriers and alleviate the anxiety of being in need of a menstrual product when one is not available.
"These products are a necessity, and this initiative aims to ensure everyone who needs them will be able to access them  while on campus."
The washrooms newly equipped with free dispensers are in Robarts Library, Student Commons, Sidney Smith Hall, Goldring Centre for High Performance Sport, Clara Benson Building, Warren Stevens Building and the Exam Centre.
More information about the location of the washrooms can be found through U of T's interactive campus map.
Free dispensers can also be found in several other spaces on the St. George campus – the result of similar projects by Hart House, U of T Students' Union and at individual colleges, among others.
U of T Mississauga and U of T Scarborough similarly have their own free menstrual products projects up and running, with each campus's student union playing a significant role.
At U of T Mississauga, more than 70 women, gender-inclusive and accessible washrooms across campus have dispensers with free tampons and sanitary pads. Facilities Management & Planning manages the dispensers and determines when it's necessary to restock them.
Community members at U of T Scarborough, meanwhile, can access free menstrual products in 16 washrooms across eight buildings on campus. While the free products were initially placed in baskets, they are now distributed via dispensers that are restocked by Facilities Management with the help of Scarborough Campus Students' Union.
The pilot project on the St. George campus, which replaces some existing dispensers that required payment, was first proposed in 2019 but implementation was delayed by the pandemic. Consultation and planning resumed last year when students returned to campus for the fall term and the Ontario government announced its initiative to provide high schools and elementary schools across the province with free menstrual hygiene products.
The burden on students who require menstrual products can be significant. According to a 2019 survey by Plan International Canada, nearly two thirds of Canadians who menstruate have had to miss out on an activity because of concerns about being able to access menstrual hygiene products, while 34 per cent have had to make budget sacrifices to afford them.
Despite efforts to do away with social stigma around menstruation, the survey shows it persists. About 58 per cent of female respondents said they felt the need to lie about being on their period and 41 per cent have been teased about being on their period.
There is strong support for free access to menstrual products in schools, workplaces, homeless shelters and public spaces across Canada, the survey showed.
During the next six months of the pilot project at St. George, Facilities & Services will monitor product demand and use their findings to inform how to best offer this program across campus.
"We hope this project contributes to the ongoing efforts to combat stigma around menstruation on our campuses," Welsh says.
UTC