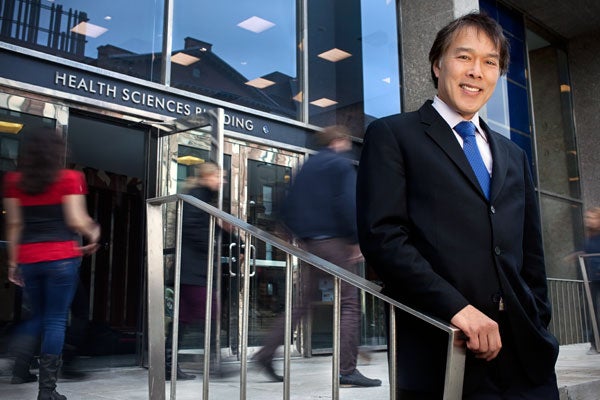 U of T launches Dalla Lana Faculty of Public Health
School of Public Health becomes stand-alone faculty
In 1975, the University of Toronto disbanded the School of Public Health. In 2008, it was reinstated as the Dalla Lana School of Public Health. On July 1, 2013, the school became a faculty.
To understand the school's journey, says Howard Hu, director of the School since July 2012 and now Faculty Dean, you need to go back to the beginning. 
"The story of the faculty is really academic high drama," says Hu. "It began as one of the first three Schools of Hygiene created with grants from the Rockefeller Foundation in the 1920s (Harvard and Johns Hopkins were the others). And very quickly, it became a leader in the growing public health issues of the day: vaccinations, sanitation, nutrition and epidemiology."
Then, says Hu, funding dropped away. Universal health care came to Canada and it seemed as though immunizations and antibiotics might solve the most pressing public health problems of the day. The university disbanded the school.
"It wasn't until 2003 and SARS that people saw the urgent need for a coordinated approach to public health. And U of T, which is right at the geographic, political and institutional nexus of public health, is the ideal home for a place like the Dalla Lana." 
Today, the school is a leader in public health education, research and service, receiving more than $30-million in research funding each year. It has one of the country's largest concentrations of population and public health researchers with expertise in global health, tobacco impacts on health, public health policy, occupational disease and disability, air pollution, genomics, inner-city health and circumpolar health.
The School offers doctoral and masters programs across seven areas of study to nearly 400 students, and trains the next generation of educators, scientists and practitioners who will advance public health in Canada and around the world. 
"As a full faculty of public health, we're better positioned to compete globally," Hu continues. "This new designation shows we have an institutional commitment to public health, a critical mass of researchers and a clear plan."
Nicole Bodnar is a writer with the Faculty of Medicine at the University of Toronto.