U of T kicks off Pride Month with flag-raising ceremonies across its three campuses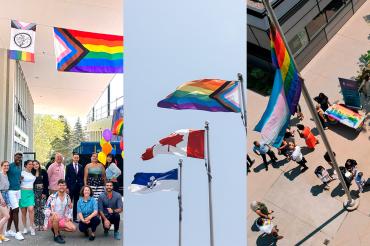 The University of Toronto kicked off Pride Month celebrations on its three campuses Thursday with flag raising ceremonies and associated events.
As the Faculty of Kinesiology & Physical Education (KPE) prepared for its annual flag-raising on the St. George campus, Ivan Canete thought back to when Toronto hosted WorldPride back in 2014 – in particular, the flags that lined Bloor Street.
The event prompted the assistant manager of merchandise, apparel and ticketing sales for the KPE's sport and recreation department to suggest a flag at Varsity Stadium. So, Beth Ali, U of T's director of athletics and physical activity, tasked him with developing an accompanying ceremony.
"I drafted a modest model and we held the inaugural ceremony in 2016," Canete said. "We added the Trans flag in 2017 and transitioned to the Progress Pride flag – which includes black and brown stripes to represent marginalized LGBTQ+ communities of colour, along with the colours pink, light blue and white, which are used on the transgender Pride flag.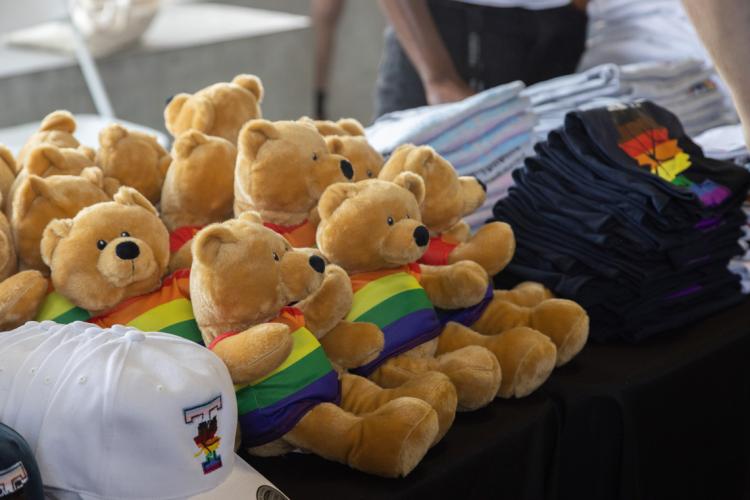 KPE's annual event, hosted in collaboration with the Sexual & Gender Diversity Office, takes place alongside similar ceremonies at U of T Mississauga and U of T Scarborough, as well as other Pride-related events at the university throughout the month.
At U of T Mississauga, the Pride Month launch barbecue and flag-raising opened with a performance by Danielle Migwans, an Indigenous drummer from M'Chigeeng First Nation and the community of Wikwemikong.
For the first time on the campus, U of T Mississauga is displaying a 2-Spirit flag alongside the More Colour, More Pride flag.
Professor Nicholas Rule, incoming vice-principal, academic and dean, said the chance to speak at the U of T Mississauga's kickoff event was meaningful in multiple ways.
"As someone who identifies as part of the 2SLGBTQ+ community, [I] recognize that in many parts of the world – including in my own place of origin in the U.S. – issues such as anti-Trans bills and attacks on gender-affirming care continue to be pervasive," he told a crowd gathered in front of the U of T Mississauga Student Centre.
"Many people are suffering, dying and fighting for rights of equality – something that a lot of us in Canada take for granted. But today I want to focus on the positive by reflecting on how fortunate we all are to be able to gather here on this beautiful campus – on a beautiful day, in the spirit of comradeship – to commemorate and honour this month."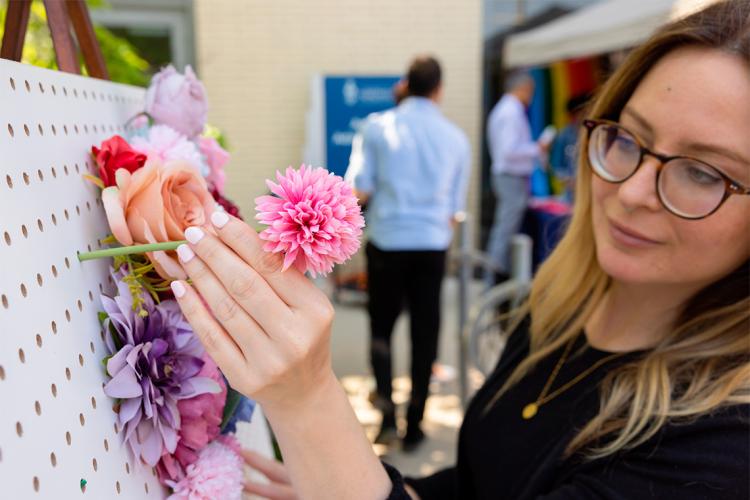 At U of T Scarborough, the More Colour, More Pride flags were raised for the fifth year in a row.
"By raising this flag, we honour the experiences and resiliency of gay, lesbian, bisexual, trans and queer people and the experiences of Black, Indigenous and racialized people in the 2SLGBTQ+ community. Additionally, we raise the Trans Pride flag to represent 2-spirit, trans, non-binary and gender non-conforming people," said Nadia Rosemond, U of T Scarborough's assistant dean, co-curricular programs and student leadership, during her opening remarks.
"I want to pause and express gratitude and love to our 2SLGBTQ+ students, staff, faculty and librarians at UTSC. I don't know how often you hear or feel this outside the month of June, but I want you to know that you belong here. You are welcomed here."
The ceremony was followed by a courtyard celebration in front of the Arts and Administration Building with snacks, a unique floral mural marking Pride Month and a welcome table set up by the Positive Space Committee.
Back at the Varsity Stadium event, Sport and Recreation aquatics instructor Alex Jung was selected as the KPE staff guest of honour for his dedication to improving trans pool hours and launching upcoming trans swim lessons.
"As we swim through eliminationist policy and transgender athlete bans, I look to the spaces we trans folk grow for us," Jung said. "I'm excited for more of us to be in the pool, comfortable in our own skin and in the water."
Allison Burgess, U of T's acting executive director of equity, diversity and inclusion, reminded guests that June is also National Indigenous History Month and said raising the Progress flag should be viewed both as a gesture of support for 2SLGBTQ+ communities and a stand against all oppression.
"All of this might feel like ancient history – but we know that, sadly, the fight for equity is not over," said Burgess, adding that Pride is a time to celebrate the invaluable contributions of 2SLGBTQ+ members of the U of T community and get involved in Pride Month initiatives across the three campuses.
"Simply being here today to help us raise the Pride flag is a political act, but I hope this won't be the only action you take during Pride Month."
UTC