U of T introduces service animals guideline to support people with disabilities on campus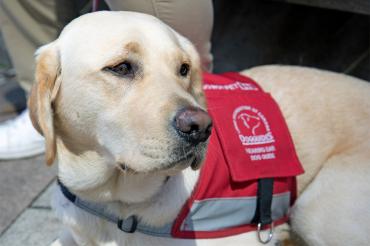 The University of Toronto is working to ensure it's a welcoming place for people with disabilities and their service animals.
A new service animals guideline has been created by U of T in compliance with the provincial government's Accessibility for Ontarians With Disabilities Act (AODA) to help the university community gain a better understanding of how best to support and accommodate people with service animals.
The guideline put the AODA requirements regarding service animals in the context of the university environment. It answers questions people may have about what qualifies as a service animal, where service animals are allowed on the three campuses, including in residences, and how to create an environment where service animals and their owners feel included.
"The University of Toronto strives to create a safe, inclusive and supportive environment for students, staff and faculty with disabilities," says Vice-President of Human Resources & Equity Kelly Hannah-Moffat.
For Peter Stelmacovich, an inclusive learning environment has been vital to his academic success.
Stelmacovich has a cochlear implant, which helps him to hear, but when the device is turned off overnight, Emma, a spritely two-year-old yellow Labrador retriever, is there to alert him to important sounds.
"The main thing for me at night is having a reliable way to wake up and the peace of mind knowing that I've got somebody listening for me," says Stelmacovich, who will be graduating in November with a Master of Health Science from the Institute of Health Policy, Management and Evaluation (IHPME) at the Dalla Lana School of Public Health.
During the day, Emma helps Stelmacovich discern the location of a sound, particularly if someone is calling his name.
"She will first figure out where the sound is coming from and then she'll jump up at me and take me to where somebody is," he says.
Emma can recognize and alert Stelmacovich to a number of other sounds, including smoke detectors, door bells, alarm clocks – and his son knocking on the front door at 3 a.m. when he forgets his keys.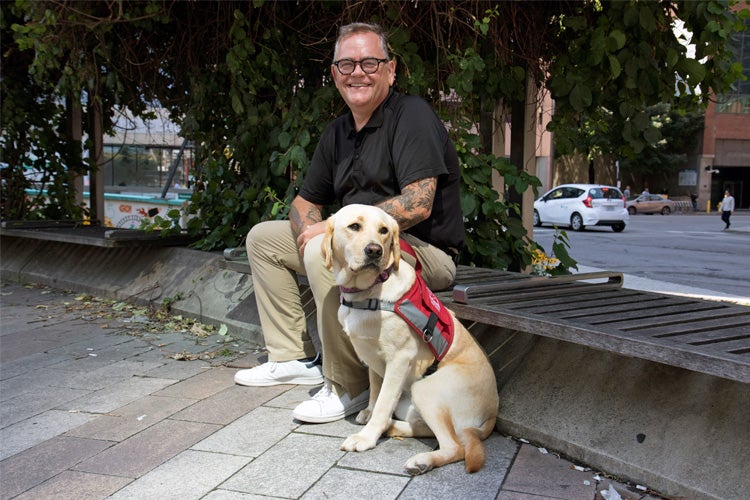 Stelmacovich and Emma, his service dog. "If something happens, I know I've got a dog watching over me," he says (photo by Romi Levine)
U of T, Stelmacovich says, has "been very accommodating to all of my needs."
He adds that the new service animals guideline will help increase awareness on campus about the animals who can accompany people with disabilities.
U of T collaborated with members of the university community when creating the guideline, including Stelmacovich and other students.
Under the new guideline, members of the U of T community can choose to register their service animal with the university. This is an optional process offered to students by the accessibility service office on each campus, and to staff and faculty through Health & Well-being Programs and Services. Owners of the service animal will receive an updated TCard with a symbol confirming the registration.

Service animals like Emma are easy to spot because they are wearing a special harness or vest, but not all animals in support roles are as identifiable. For an animal to be considered a service animal, the handler must have documentation from one of the regulated health professionals outlined in the guideline. But the guideline states this documentation should only be requested by staff and faculty when absolutely necessary, particularly for health and safety or operational reasons.
As the university works to address student mental health on all three campuses, the service animals guideline also raises awareness about the use of animals for emotional support, recognizing that students may have service animals for invisible disabilities.
While service animals are allowed most places on campus, including residences, there are locations where they may not be permitted, including spaces where food is prepared, packaged or handled, although service animals are permitted in places such as cafeterias where food is served and sold.
Other locations where service animals could raise safety concerns include some labs and medical clinics. The guideline says the AODA Office and the Office of Environmental Health & Safety (EHS) should be consulted on whether to restrict service animals from certain locations.
In general, Hannah-Moffat says the university is committed to creating an atmosphere of inclusion for U of T community members and their service animals, and will strive to make sure individuals' needs are met.
"The service animals guideline is an important part of our commitment to treat every member of the U of T community with dignity and respect," she says.
UTC