U of T institutional strategic initiative focuses on UN sustainable development goals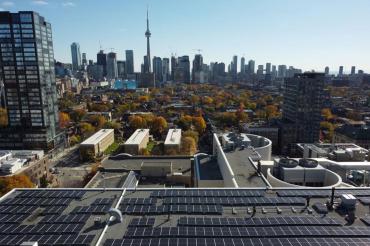 The University of Toronto has launched SDGs@UofT, a new institutional strategic initiative aimed at having a substantive global impact by supporting sustainable development.
SDGs@UofT pursues an ambitious research agenda that addresses the 17 UN sustainable development goals (SDGs) –targets that individuals, communities, institutions and countries can work toward achieving by 2030. They include taking urgent steps to combat climate change, consuming and producing sustainably, improving health and education, reducing inequality and protecting the natural world, among others.
"Universities have been called on to commit to research and knowledge mobilization that support the sustainable development goals," says Leah Cowen, U of T's vice-president, research and innovation, and strategic initiatives. "SDGs@UofT is part of U of T's commitment to these goals and to developing solutions that have an impact on a global scale." 
SDGs@UofT supports a co-ordinated and coherent convergence research agenda that will leverage existing research strengths and bring together diverse thought leaders to help shape understanding and implementation of SDG initiatives. Convergence research consists of deep integration across different disciplines and is driven by a specific and compelling problem, particularly one arising from important societal needs.
"Removing institutional barriers to interdepartmental, interdivisional and tri-campus collaborations will enable research to address complex global problems that cannot be addressed by a single discipline," says Joseph Wong, U of T's vice-president, international.
The initiative will also launch the SDGs Scholars Academy, a think tank bringing together researchers from various disciplines across U of T with the goal of advancing understanding and addressing issues critical to sustainable development. Through the academy, SDGs@UofT will conduct research that will identify pathways to achieving the SDGs, measure progress along these pathways and explore interdependencies among the SDGs. It will also design interventions that will assist in the development of the next iteration of global goals after 2030.
SDGs@UofT will be led by U of T Scarborough and will be supported by a number of divisions and engage researchers, faculty, students and staff from across U of T. 
Wisdom Tettey, U of T vice-president and principal of U of T Scarborough, says SDGs@UofT reflects the campus's commitment to incentivizing collaborative research to solve complex global issues. 
"Our commitment is rooted in a collective vision of being the embodiment of inclusive excellence, a bold community of conscientious and adaptable global leaders in scholarship, innovation, teaching and learning who constructively disrupt the status quo, connect the world and advance transformative change for the good of all," he says. 
U of T has been incorporating facets of SDGs into its academic activities, campus operations and collaborations with local and global partners across its three campuses for several years. Many of these have been guided by the President's Advisory Committee on the Environment, Climate Change and Sustainability.
Some notable recent examples include the launch of the sustainability pathways program, which clusters courses and co-curricular activities with a common theme of sustainability. There is also a new database of Campus as a Living Lab projects and an inventory of courses that provide students, partners and staff with the opportunity to experiment and contribute to real-world pressing sustainability and climate solutions. Work has been done across the three campuses in fitting buildings with geothermal heating and cooling systems aimed at achieving low carbon emissions.  
The ongoing work done by the Reach Alliance, a tri-campus initiative founded at U of T's Munk School of Global Affairs & Public Policy, has also been committed to advancing SDGs by focusing on interventions and innovations that reach those living in extreme poverty. These efforts and others contributed to U of T being ranked second in the world in the inaugural QS Sustainability Rankings. 
Erica Di Ruggiero, associate professor of global health at the Dalla Lana School of Public Health and research director of the SDGs@UofT, says there is a sense of urgency behind this work.
"The target for the sustainable development goals is 2030, so there isn't a lot of time. In fact, during the pandemic, many countries lost ground on the SDGs," says Di Ruggiero, whose research focuses on the influences affecting equitable policy progress on the sustainable development goals. 
"But, along with our collaborators, we will harness the strengths of U of T across disciplines and sectors to generate just and equitable solutions that will also inform future goals." 
UTSC