U of T to improve safety at Bahen Centre as it reopens
University to set up memorial after student death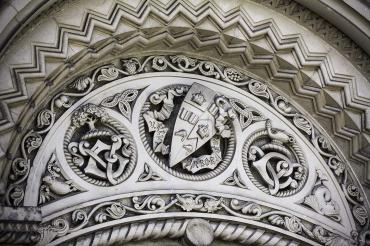 The Bahen Centre for Information Technology will reopen Sunday at 11 a.m. following the death of a student on Friday night.
"We are taking immediate steps to improve safety at the Bahen Centre and we will continue to work on permanent changes," said Sandy Welsh, vice-provost, students at the University of Toronto. 
"The safety and well-being of our students are our top priorities. We've listened to concerns about the building and are putting in place measures that will improve safety."
The university has been working with the building's architects since last spring to design permanent changes that will enhance safety in Bahen. Construction begins Sunday to put temporary barriers in place, with installation of long-term changes expected to get underway later this fall.
"We mourn the loss of our student, and we are here to support our community," Welsh said. "Our thoughts are with the student's family, friends, fellow students, staff and instructors."
Once family members confirm their wishes, more information about the student may be shared.
Counsellors and chaplains will continue to be available Sunday until 4 p.m. at the Health and Wellness Centre in the Koffler Student Services Centre (first floor, room 111), in addition to regular services.
"We recognize that many people in our community would like to pay tribute and mourn the loss of one of our students," Welsh said. "When the Bahen Centre reopens, members of our community who wish to pay respects will have the opportunity to do so and cards to share messages of sympathy and concern will be provided."
---
Feeling distressed? Find someone to talk to right now – and if there is an immediate risk, call 911.
Round-the-clock support

Free 24/7 support is available outside the university. Students, staff and faculty can speak to a trained crisis worker at any hour of the day.
The following are some of the services available to students on all three campuses:
1AUTC