U of T hosts global scholars for NAISA conference on Indigenous Studies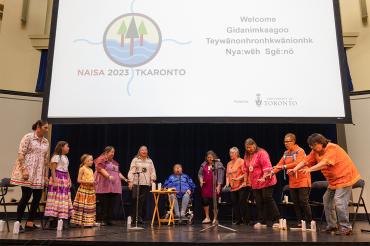 The University of Toronto will welcome Indigenous scholars and researchers from around the world this week for the 14th annual Native American and Indigenous Studies Association (NAISA) conference.
The conference, which is expected to draw 1,000 attendees, will be held on U of T's St. George campus from May 11 to 13.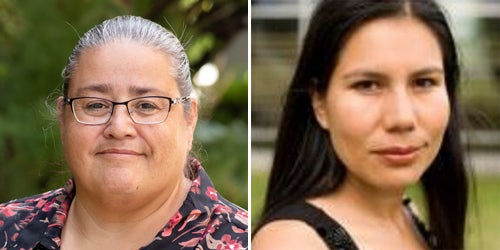 NAISA is an interdisciplinary professional organization that brings together faculty and students from post-secondary institutions (including several U of T scholars); community-based scholars, artists and Elders; and independent professionals working in the field of Indigenous Studies.
"NAISA came about in order to create a place where Indigenous Studies scholars could meet and work on the broad themes that tie us together, and to advance a broader understanding of the importance of Indigenous Studies to academia. Strengthening Indigenous Studies positions us to better support Indigenous communities and Nations," said conference co-chair Susan Hill, director of U of T's Centre for Indigenous Studies and an associate professor of Indigenous Studies and history in the Faculty of Arts & Science.
With sessions planned on everything from food sovereignty to language revitalization and contemporary Indigenous cinema, the 2023 event is the first in-person NAISA conference since 2019, when it was hosted by the University of Waikato in New Zealand. U of T had planned to host the 2020 conference, which was cancelled due to the pandemic and rescheduled for this year.
The conference will highlight how Toronto – which originates from the Mohawk word "Tkaronto," meaning "where the trees stand in the water" – has been home to the Haudenosaunee and Anishinaabe Peoples and part of the original homelands of the Wendat People.
U of T News spoke with Hill and fellow conference co-chair Karyn Recollet, assistant professor in the Women & Gender Studies Institute in the Faculty of Arts & Science, about what to expect at NAISA 2023 – which will include panel and roundtable discussions, presentations of research papers, film screenings, performances and more.
---
Hundreds of attendees are coming from around the world – what will they experience at this year's NAISA conference?
Hill: One of the things that we committed to as the local host committee was to take the lead in terms of our own cultural values that we bring from our specific communities – and also honouring the practices that are common in the Toronto Indigenous community.
One of those key pieces was about ethical care and doing our best to provide spaces that would meet people's needs – so we were very purposeful in choosing locations that were close together.
It was also important for us to feed our guests – that's a key value that's embodied in the communities all around us. When you come to somebody's home, they will offer you a meal or a beverage. That's such an important part of hospitality, and in inviting our friends and colleagues from around the world, we want to make sure we're treating them as if they were coming into our home.
We're particularly excited about the fact that we've partnered with local Indigenous chefs to help make that happen and to provide our guests with the foods that come from the land and the waters of the territory.
In academia, sometimes we take food for granted and think, "Oh, it's just fuel for the body." But in Indigenous cultures, we're taught that it's food for our mind, our body and our souls. And so we've tried to make that as fruitful as possible in this gathering, and also in everything we do in nourishing people's minds, bodies and spirits in the work we're doing together.
Through NAISA's call for papers and in your planning, did any themes for the conference emerge?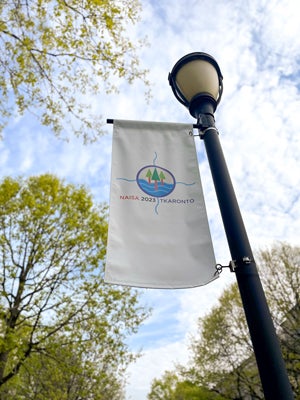 Recollet: In reaching out to our various partners – including U of T Mississauga – when we were starting to imagine what this conference would look like, some very interesting interconnections and webs started to develop, which helped the planning process quite a bit.
We knew that to determine the shape of our gathering, we wanted to focus on Black and Indigenous relationships, on queer and Two-Spirit thought and thinking, and to acknowledge that Toronto is a very special place that has a unique relationship to water. That helped us to think through some of the main ideas and offerings we might be able to have. Drawing on our relationships with the land – and with each other – helped in mapping things out.
What will be some of the highlights at this year's conference?
Hill: One of the goals that NAISA has always tried to embody with their conferences is recognizing that the papers that get proposed and accepted are going to come from all over the place, but also making sure that there's time and space for both the people coming from other places, as well as the people from the local area, to have the opportunity to learn more about the host area.
Here in in Toronto, we've tried to be really thoughtful about the ways that we curate those particular opportunities – for example, we'll have walking tours of our campus, OCAD University, Toronto Metropolitan University, the Art Gallery of Ontario and the Royal Ontario Museum. So, the folks who are coming to our campus from all over the world have a chance to learn about some of the things that are happening here on the ground in our city, at our universities and arts organizations.
Recollet: Another special moment we've envisioned is offering opportunities for graduate-student mentorship, where the students can sit and share a meal together and talk to each other about their work and knowledge transmission.
We've also curated spaces called "CARE Hubs" in both the buildings that are hosting the sessions, because sometimes conferences can be draining – you might need a quiet space to centre and just enjoy solitude. So those will have cots, medicines, soothing music, some magazines – spaces to relax and enjoy.
The welcome ceremony at Convocation Hall will feature singers and drummers, and we encourage everyone to visit the book fair and market hall at the Howard Ferguson Dining Hall, where more than 30 publishers and academic institutions will be set up.
What do you hope attendees take away from the conference?
Hill: We hope that all our visitors will have the opportunity to engage with some amazing people who are connected within this global network and are able to walk away with a deeper understanding about the vitality and rigour of Indigenous studies.
A lot of times people think it's just about culture, but it's important to understand the deep knowledge that goes into the revitalization and the celebration of the cultures from which we come – and the hard work being put into creating vibrant futures for the generations to come.
UTC