U of T honours four exceptional faculty members with President's Teaching Award
University also announces five faculty members promoted to University Professor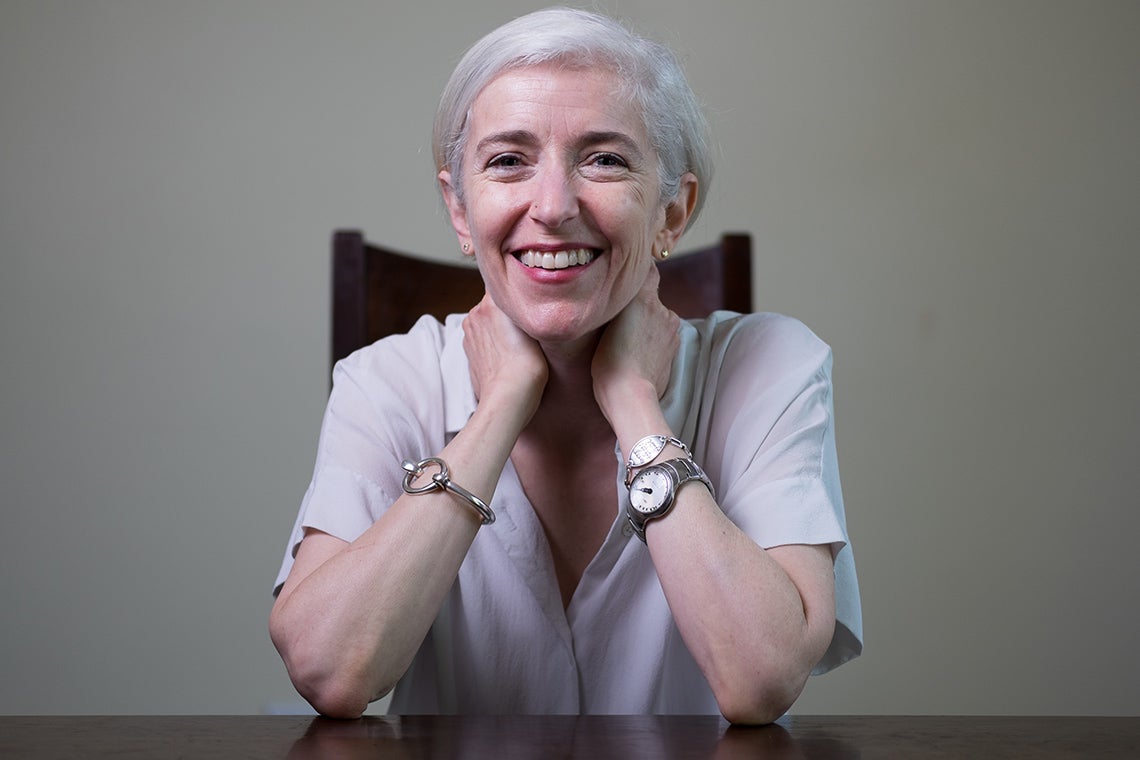 Dr. Pier Bryden says her best professors all had one thing in common: They were able to focus on a narrow subject and extrapolate, explaining its wider significance. In her history studies at the University of Toronto, she had a professor who could take a sentence from Dostoevsky and relate it to the Russian Revolution. Later, in medical school, she had lecturers who went from talking about symptoms to society. 
"Those were the teachers who always made me feel like my brain was stretching," she recalls. 
As an educator, she tries to emulate the professors who inspired her, and her efforts have been recognized by the university community. The associate professor in the Faculty of Medicine and co-author of a popular book on psychiatry, How Can I Help? A Week in My Life as a Psychiatrist, is one of the four winners of the President's Teaching Award – the university's highest honour for excellence in teaching.
Her fellow recipients are William Cluett, a professor in the Faculty of Applied Science & Engineering, Jennifer Murdock, an associate professor, teaching stream in economics in the Faculty of Arts & Science, and Fiona Rawle, an associate professor, teaching stream in the department of biology at U of T Mississauga.
Cluett has been teaching at U of T for over 30 years. He's also contributed to the curriculum through academic leadership positions, including by developing and implementing the faculty's flagship first-year design and commmunications course, Engineering Strategies and Practice. He has also expanded summer research opportunities for students in Canada and abroad. 
After a few years as an economist in the anti-trust division of the U.S. Department of Justice and in economic consulting, Murdock joined U of T in 2004. She has helped recruit teaching-stream faculty and spearheaded important curriculum redesign and enhancement efforts for undergraduate economics and commerce programs.
Rawle is the associate dean, undergraduate at U of T Mississauga and the lead author of the first and second editions of CAMPBELL Biology, an introductory biology textbook used widely in Canada. She says she approaches teaching like she does bench research, by taking an evidence-based approach. 
"I want to congratulate this year's four outstanding winners of the President's Teaching Award," said U of T President Meric Gertler. "They are an inspiration not only to their students, but to their colleagues as well."
Between 2013 and 2017, while Dr. Bryden was the pre-clerkship director for the MD program, she co-led the most extensive curriculum renewal of the program in more than two decades. This massive undertaking began with a simple aim: "We wanted to build a coherent narrative of what it is to become a doctor and to care for the different aspects of your patients," she says.
Her colleague, Dr. Marcus Law, an associate professor in the department of family and community medicine, describes it as a "seismic shift" in medical education – one that emphasizes frequent testing instead of make-or-break exams, self-directed learning and virtual patient cases that give students a taste for real clinical encounters. 
Dr. Bryden also worked with students and faculty to create a companion humanities curriculum for medical students in first and second year. Each week, students are given optional readings – a book chapter or Margaret Atwood poem, for example – to complement their medical education. 
Dr. Bryden, who has a bachelor's degree in history from U of T and a master's in politics from Oxford, says her background in the humanities helped her in medical school. She formed a book club with her classmates in which they read  Abraham Verghese, Dostoevsky and other authors. "It really saved us because it kept us in touch with the larger world," she says.
Fellow award winner Rawle has also come up with creative strategies to engage students. She often holds her office hours outside the office, bringing her students on walking tours around the leafy campus where they discuss questions in depth – and occasionally spot deer and coyotes.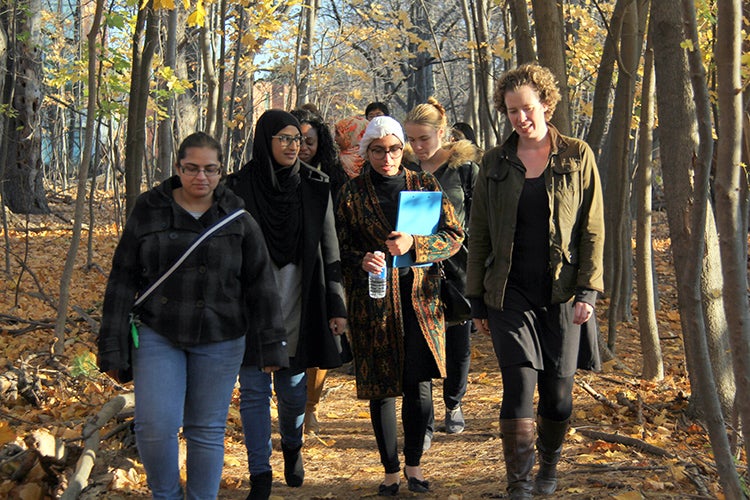 Fiona Rawle (right), an associate professor, teaching stream in the department of biology at U of T Mississauga, talks to students on her walking office hours (photo by Blake Eligh)
In the classroom where she teaches genetics and molecular biology, she gets students up on their feet – even in classes as large as 500 students. To help students understand DNA, she asks her students to form one long, double-stranded DNA molecule. Their elbows act as bases and their hands represent phosphate molecules.
"We do this in class and immediately the students understand the directionality of DNA, how DNA has a direction, and they start to understand prime notation, which are really tricky concepts," she says.
The in-class experiment seems to stick with the class: Rawle says she sometimes sees her students re-enact the demonstration in their seats during final exams to remember molecule structure. 
In her lectures, Rawle keeps students' attention by calling on them at random using cue cards with their names on them. She gives them the option to pass if they don't know the answer. Some of the cards have her own name on them, and if she calls on herself then students can ask her anything related to the course or not. 
The exercise is meant to show students that it's sometimes OK to be wrong. In fact, it's fundamental to scientific discovery. "Science is messy," she says. "Some of the failures are the most interesting examples."
"Things like the discovery of penicillin, development of anesthesia, the invention of the pacemaker, or the invention of the Slinky – these things were actually 'mistakes' or 'accidents,'" she adds.
In addition to teaching, Rawle is a member of U of T's tri-campus TIDE group (Toronto Initiative for Diversity and Excellence), which looks at unconscious bias and the role it plays in university hiring, promotions and evaluations. "Our role is to curate these evidence-based practices and resources, and train others at the university to be aware of that," she explains.
At the same time as the university celebrates the recipients of the President's Teaching Award, it has also announced the list of faculty who were promoted to University Professor, the highest designation for faculty at the university, which recognizes "unusual scholarly achievement and pre-eminence in a particular field of knowledge." 
The new University Professors are:
Shana Kelley, in the departments of chemistry, pharmaceutical sciences and biochemistry, has invented, investigated and translated into practice nanotechnologies for the elucidation of disease biology 
John Kloppenborg, in U of T's department for the study of religion, is a specialist in Christian origins  
Tania Li, in the department of anthropology, has researched urban cultural politics in Singapore and Indonesia Indigenous highland communities 
Dr. Stephen Scherer, in the Faculty of Medicine, who is also senior scientist at SickKids and co-founder of Canada's first human genome centre 
Douglas Stephan, in the department of chemistry, whose research focuses on making new molecules and studying their use as catalysts for the preparation of desirable compounds and materials
UTC