U of T to hold inaugural Giving Day on March 28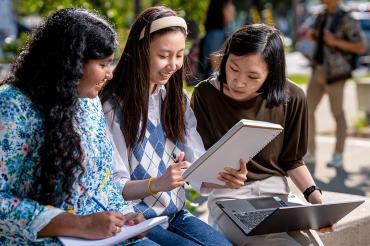 The University of Toronto is inviting its global community of alumni, friends, faculty members and staff to participate in its inaugural "Giving Day" on March 28. 
The university will match contributions up to $1,000 dollar-for-dollar while matching funds last. It is also encouraging alumni to share their involvement on social media and to "like" and share U of T's posts about the remarkable students and researchers who are applying their diverse expertise, experiences and perspectives to solve societal challenges.
Giving Day celebrates U of T's commitment to inclusive excellence – the driving inspiration for its Defy Gravity campaign, which aims to raise $4 billion and encourage 225,000 alumni to contribute their time and talent to the university one million times collectively.
Claire Kennedy, a co-chair of U of T's Defy Gravity campaign, says the campaign is deepening the scope and impact of transformative work across the university.
"It's truly wonderful to see our global community embracing and supporting U of T's role as an engine for leadership and positive social impact," she says.
"Giving Day gives us a unique, one-day opportunity to build on this."
Donations made on Giving Day will support student wellness and success, create scholarships for students from underrepresented and equity-deserving groups and fuel diverse research on a broad range of global issues.
"It's no small goal to build a more sustainable, prosperous and equitable future for everyone, but we can do it with the help of our incredible community," says campaign co-chair John Cassaday. "By matching donations on Giving Day, we can multiply the opportunities to help our bright students and faculty members thrive."
Twenty-four-hour-long giving days provide post-secondary institutions and charities across North America with opportunities to harness the power of collective generosity and build community.
Sana Halwani, president of the University of Toronto Alumni Association and member of the Defy Gravity Campaign Steering Committee, says she and her fellow board members are excited to participate in Giving Day. "Support contributes to a sense of belonging and is key to nurturing our students, staff, faculty members, volunteers and alumni," she says.
Ultimately, Kennedy and Cassaday say U of T's Giving Day on March 28 will be about making an impact and strengthening what makes U of T an exceptional place.
"By embracing diverse ideas, perspectives and cultures, U of T is creating a generation of thinkers who are willing to challenge orthodoxy, ask big questions and push boundaries," Cassady says. "It's exciting and precisely what the world needs right now."  
As part of Giving Day, the university is amplifying stories about talented U of T students and researchers, including Nya Lazarus Munnick, a master's student in sustainability management, whose research aims to help vulnerable communities enhance resiliency, social well-being and environmental sustainability; Amy Shawanda, who is conducting post-doctoral research in the Indigenization of public health at the Waakebiness-Bryce Institute for Indigenous Health at the Dalla Lana School of Public Health; and first-year electrical and computer engineering student John David Genus, who is working to ensure more students see future careers in STEM.
"Members of the U of T community worldwide have an unprecedented opportunity to make an impact and come together to help our students and researchers thrive," says David Palmer, U of T's vice-president, advancement and interim vice-president, communications. "U of T Giving Day demonstrates our shared Defy Gravity campaign values and underscores our ability to achieve incredible things, including addressing the most urgent issues of our time.
"Simply put, we thrive when we rise together."
DUA